 We are pleased to present spherical roller bearing units with innovative new designs and features to handle the world's toughest power transmission needs.
COC Spherical Roller Bearing Units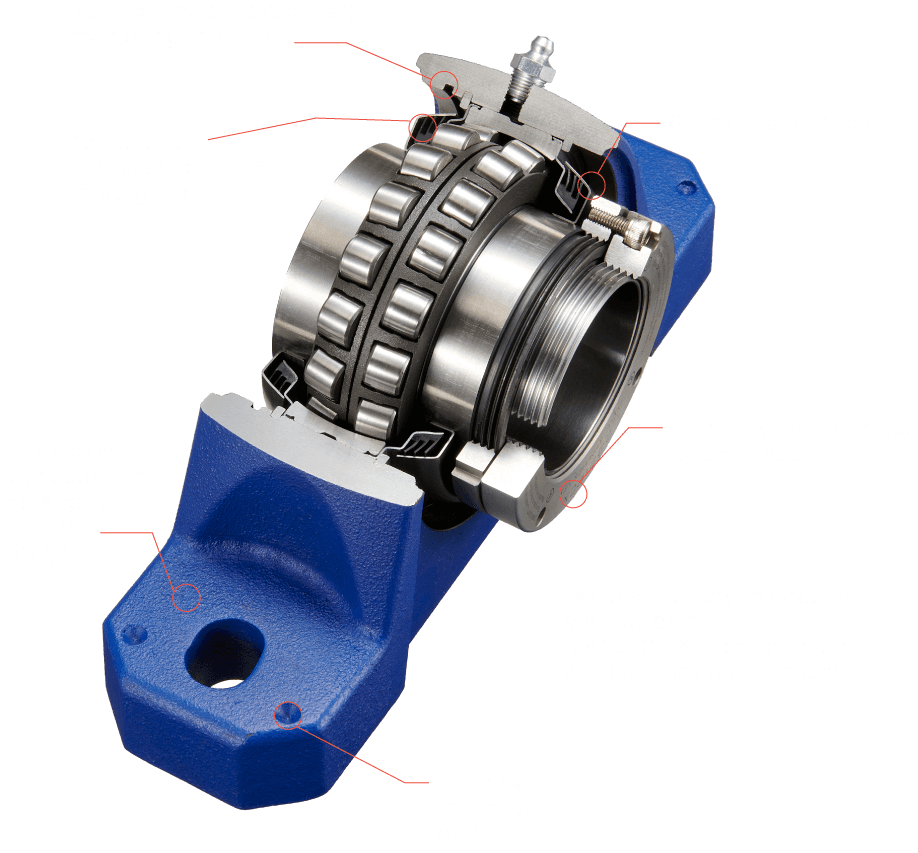 Our new adapter locking system with SN & SAF dimension housings is a unitized replacement for standard SN & SAF split housing units. It's a great off-the-shelf solution that you can save time and money.
100% interchangeable with competitive SN & SAF products. Our SRB units are shaft ready and are factory sealed, pre-lubricated, and assembled.
Seal lips contact evenly at any angle.
COC Spherical Roller Bearing Units
COC double-row spherical roller bearings have a unique sealing design that protects from contaminants. This triple-lip full contact seal has low friction and maintains full contact even misaligned as below. The corrosion resistant stainless steel flinger protects the seal. It's extremely effective for dirty and wet environments. 3000 hour Dust Protection Test
COC Seals (No Ingress)

100%

100%

COMPETITORS' NON MISALIGNED SEALS (stopped at 900 hours)

30%

30%
Labyrinth seals without rubber lips are available for higher speeds and temperatures. Labyrinth seals reduce operating temperatures at higher speeds.


Fuchs RENOLIT LX-TAC 2
Our lithium complex grease has good EP & AW, water resistance and anti-oxygenic properties. It has also good shear stability. It can be used for a wide temperature range from -20°C (-4°F) to +160°C (+320°F), and up to +200°C (+392°F) for short periods.
Easy to mount
Easy to dismount

CX
CROSSLOC™ CX insert is for SN and SAF unitized housings.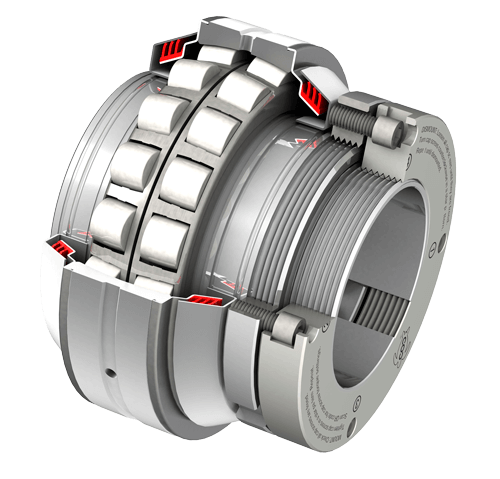 CXC
CROSSLOC™ CXC insert is for the same housings of CS units.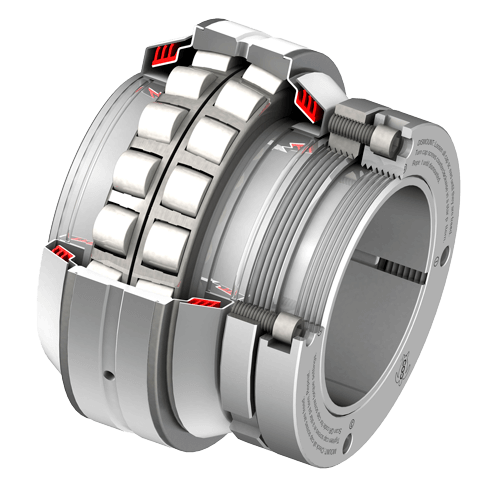 CS
The CS insert has a concentric locking collar and nylon patched setscrews at 90° providing extra holding power.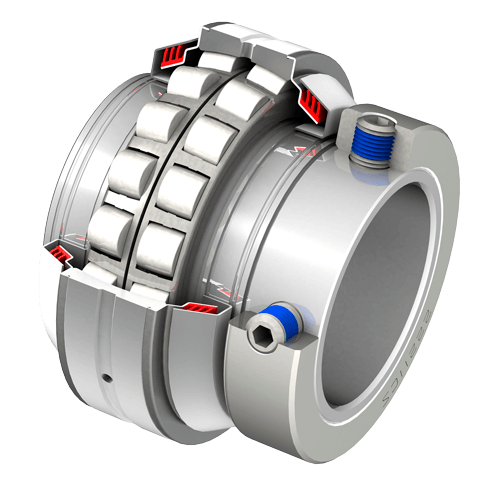 Non-expansion to Expansion When your application needs to be able to accommodate thermal expansion of the shafting, use only one fixed bearing on each shaft.
By simply moving a snap ring on the back of the unit the bearing can easily be converted from non-expansion to expansion or vice versa.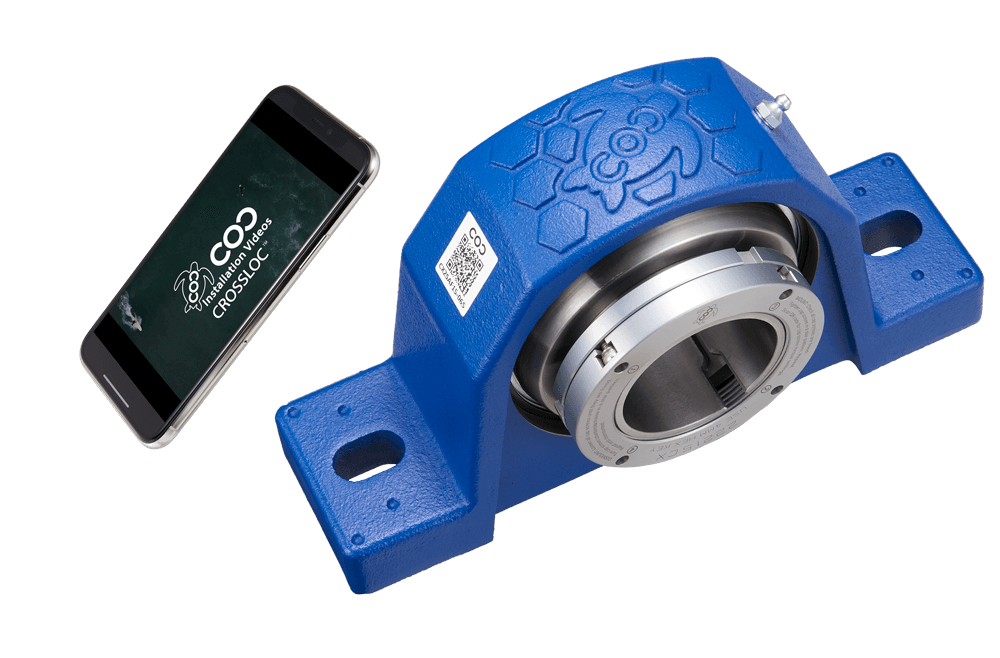 GET CONNECTED
Connect from anywhere.
Scan the QR code on the housing with your phone. You can check the dimensions, installation instructions, and maintenance guidelines.
For example, if you scan the QR code for the CX2SAF15-065 product, you will be directed to the following page on your phone: https://www.crossocean.com/catalog/cx2saf15-065/
Every QR code contains the individual serial number to use our warranty.
Our QR code label on the housing is durable and resists temperatures up to 600℃ (1,112°F).
Extra Protection and Safety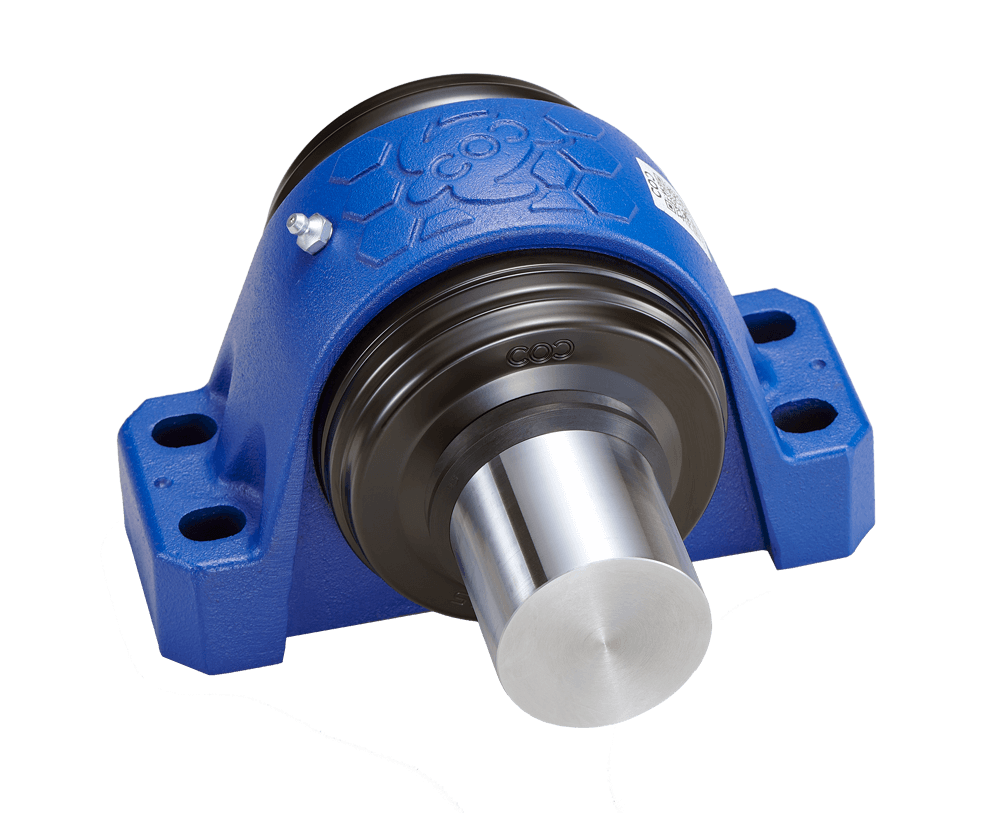 The molded rubber V-ring seal is press-fit on the shaft and rotates with shaft. The seal lip contacts on the cover not the shaft, so the shaft doesn't get any damage from the seal lip.
Due to the tapered seal contact area of the open cover, the seal lip maintains full contact even when misaligned.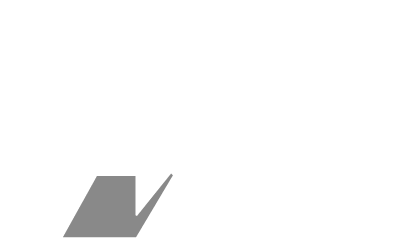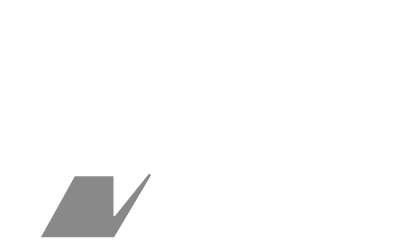 When the Open cover is used with the bearing with labyrinth seals for high speed, make a space between the seal lip and open cover to keep it from contacting. The V-ring seal will be an extra barrier as a flinger. When the Open cover is used with the bearing with labyrinth seals for high temperature, use without V-ring seal.
The open cover has the plugged drain hole and you can take the plug out for the labyrinth seal applications to drain ingressed water.