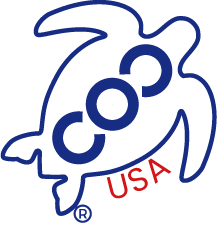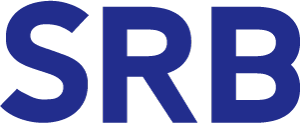 COC bearings finally crosses the Pacific Ocean to the United States.
Serving the next generation of bearing products throughout the country.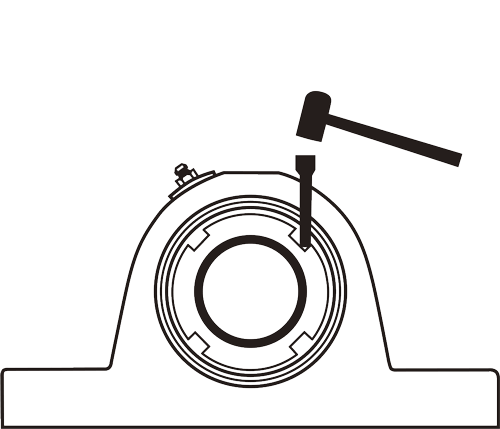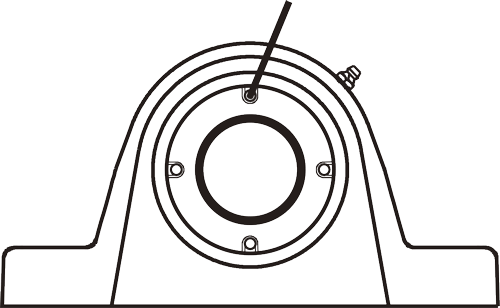 Engineers agree the best bearing mounting is gained through the use of a tapered adapter sleeve. It clamps centrally and eliminates vibration without any damage to the shaft. It also provides the maximum grip force from 360 degrees of clamping along the length of the sleeve.
Our competitor's locknut is very difficult to tighten using their instructions, sometimes even impossible. This often leads to improper installation by encouraging the use of a drift pin and hammer.
Our original CROSSLOC™ locking system is simple and fast. Tighten cap screws with a hex key in a star pattern. This is the easiest way to lock with an adapter sleeve for uniform force over our larger clamping surface.
Tightening the cap screws of CROSSLOC is sufficient with significantly less torque compared to locknuts. Unlike traditional locking systems that tighten sleeves with locknuts, CROSSLOC offers a simple method that requires minimal force to move the sleeve during the tightening of the cap screws, eliminating the possibility of installation failures. Improper installation is one of the major causes of bearing failures. Traditional locknuts require a substantial amount of torque to rotate, and inadequate tightening can lead to shaft slippage or excessive tightening, reducing the clearance within the bearing and potentially shortening the bearing's lifespan. CROSSLOC not only reduces costs associated with installation and removal but also enhances uptime.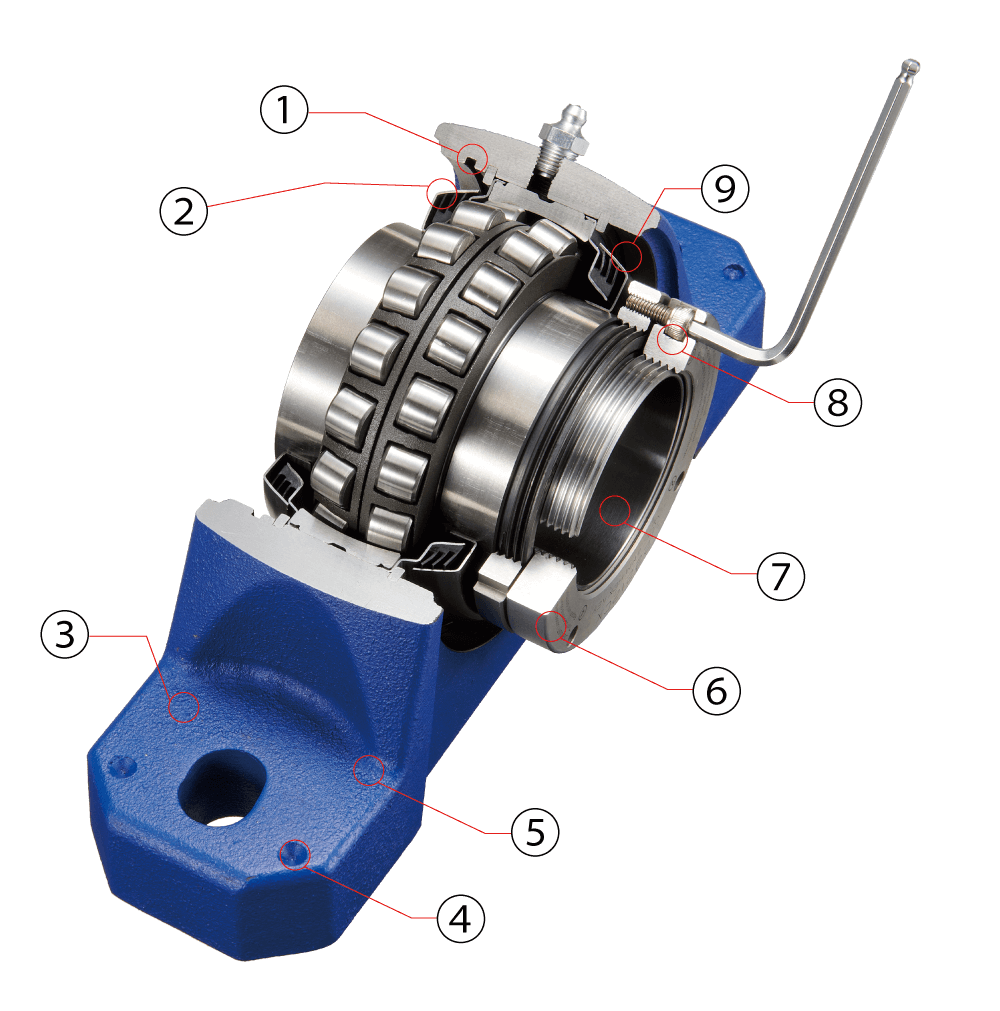 ① Non-expansion to expansion by moving snap ring.
② Contact triple lip seal allows up to +/- 2° of misalignment.
③ Durable one piece cast-iron housing with solid foot design.
④ Dimples for dowel-pin drilling.
⑤ Same dimensions as SAF500 plummer block.
⑥ Zinc-nickel alloy plated adapter nuts.
⑦ Standard adapter long sleeve (CX) Original thinner sleeve (CXC)
⑧ Pull to lock, Push to unlock (CX) Push to lock, Pull to unlock (CXC)
⑨ Stainless steel flinger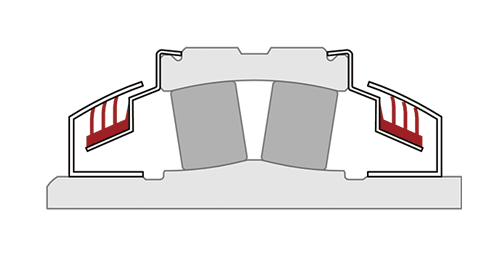 Our triple lip sealing system maintains full contact even when the inner ring is misaligned at any angle. This protects against contaminants and reduces maintenance.
COC SRB units reduce downtime, maintenance, and the total cost of ownership.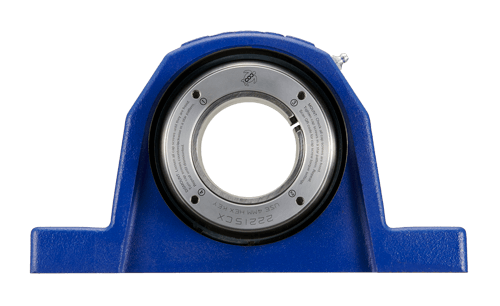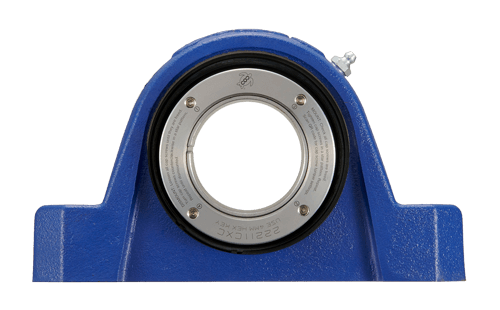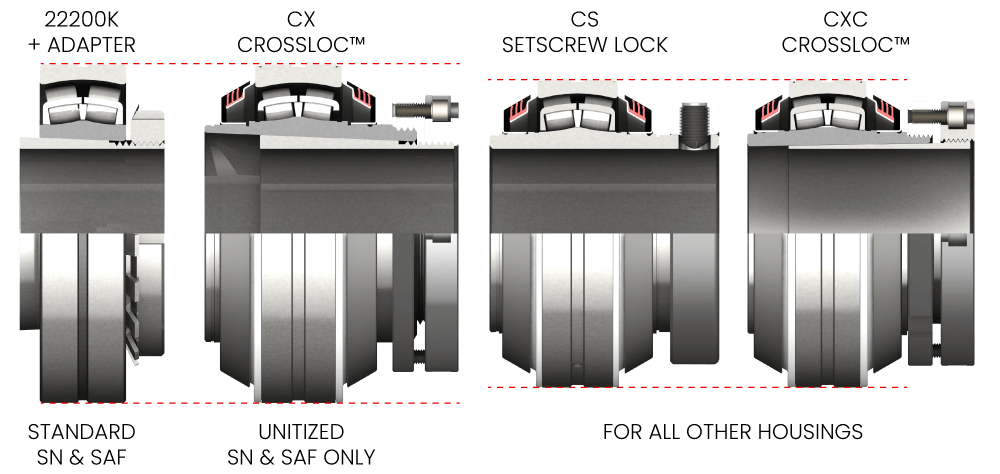 There are two types of CROSSLOC.
CROSSLOC is used with the same O.D. (outside diameter) inserts as the 22200K series and is assembled with SN500 and SAF500 dimension housings. Both types of inserts utilize the same size adapter sleeve. For instance, the 22215K insert is assembled with the H315-SNW-207 sleeve, and our 22215CX insert is paired with the AA2315X sleeve. Both sleeves have the same 2-7/16 inch bore size, but the AA2315X sleeve is longer.
CROSSLOC CXC, on the other hand, employs the same O.D. inserts as our CS setscrew collar lock inserts. It utilizes the original thin sleeve to achieve compatibility in bore size with the CS inserts. For instance, the CROSSLOC CXC insert 22213-207CXC features a 2-7/16 inch bore, which is one size smaller than the CROSSLOC 22215CX 2-7/16 inch bore insert used with SN and SAF. Despite this size difference, they can be assembled with all other housing types.
It's worth noting that several of our competitors use inserts of the same size as our CXC insert for their unitized SN and SAF housings. However, their housing bores are one size smaller than ours, resulting in smaller load ratings for these smaller inserts.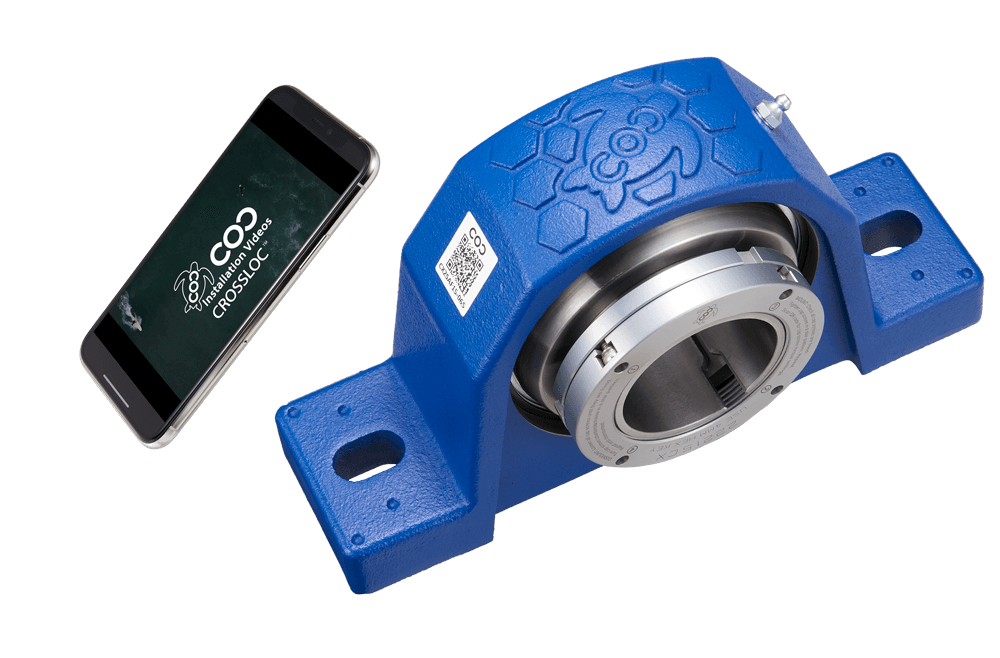 Whenever you need information about COC products, simply scan the QR code on the housing. This will provide you with all the necessary information, including dimensions, installation instructions, and maintenance guidelines. For example, if you scan the QR code for the CX2SAF15-207 product, you will be directed to the following page on your phone: https://www.crossocean.com/catalog/cx2saf15-207/
If you have any questions after removing all the nuts from your CROSSLOC units, please refer to: https://www.crossocean.com/srb-faq/.
Compatible with Dodge ISAF and IP units.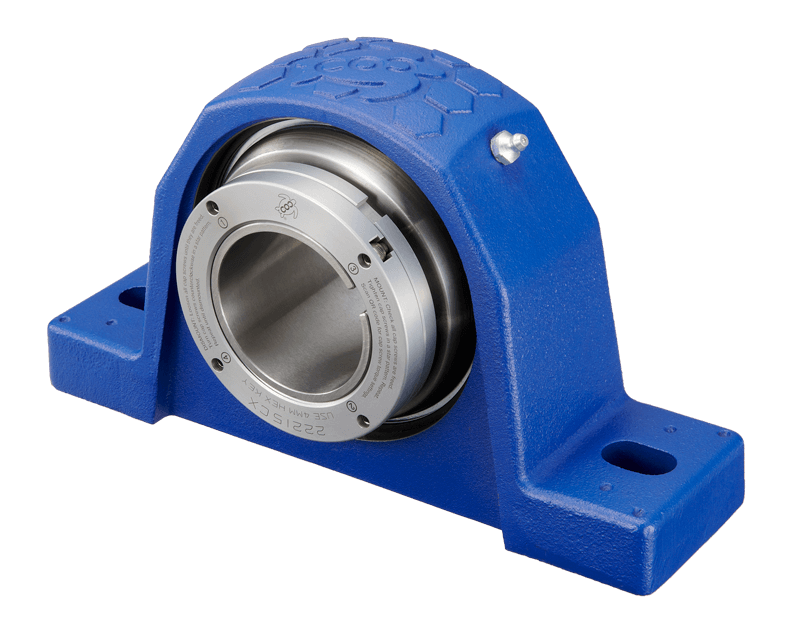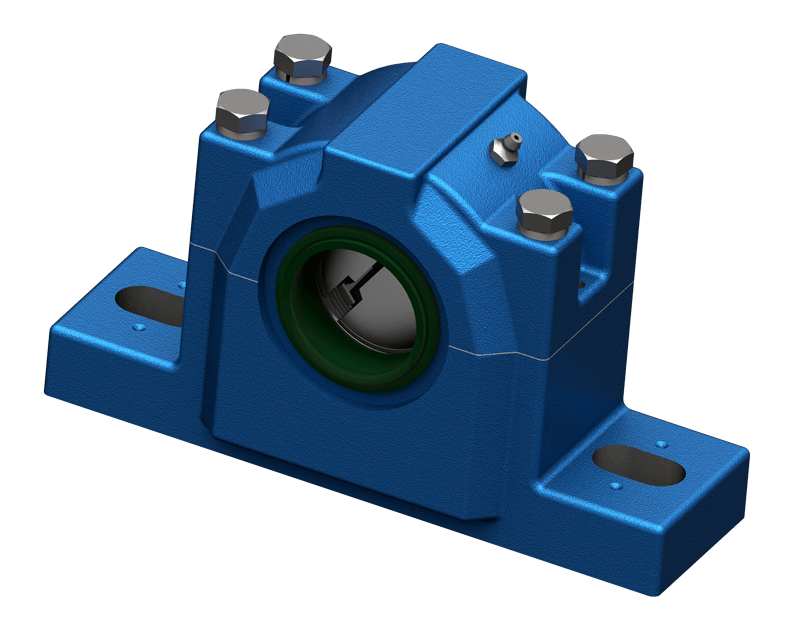 Easy mount & dismount
A brand new design

Distributors & Representatives

USA
New Distributors Welcomed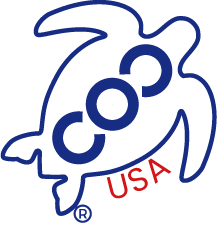 COC USA INC.
624 Matthews-Mint Hill Road, Suite C
Matthews, NC 28105 USA
Phone: (888)-706-0059
info@coc-usa.com