Saniline washdown ball bearing units
are designed for

the ultimate in
FOOD SAFETY.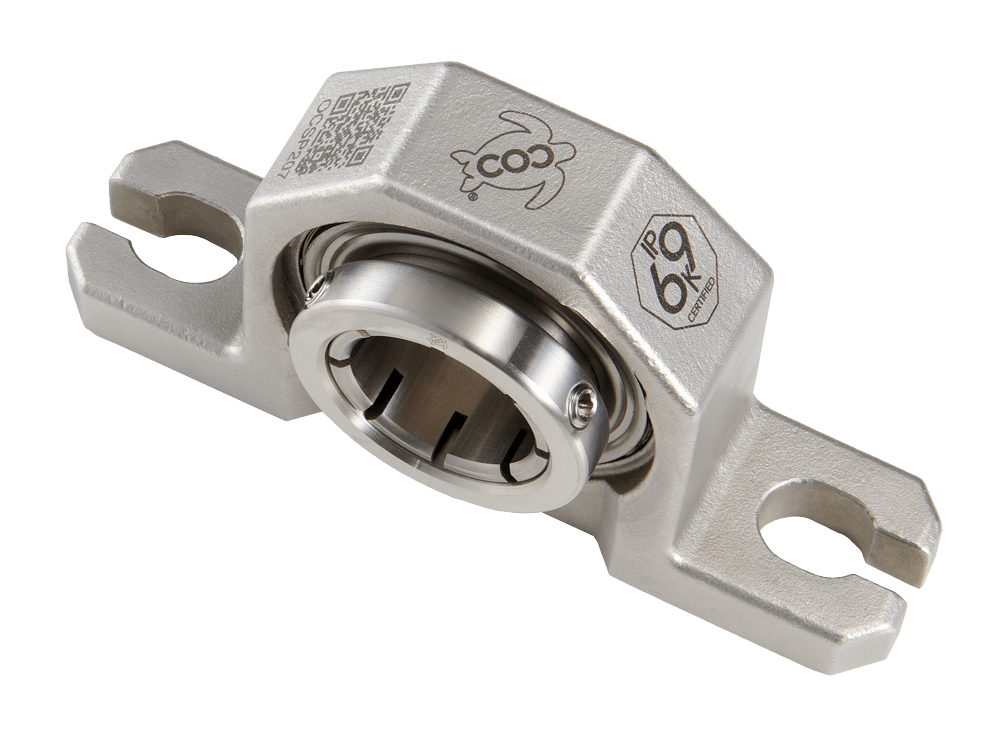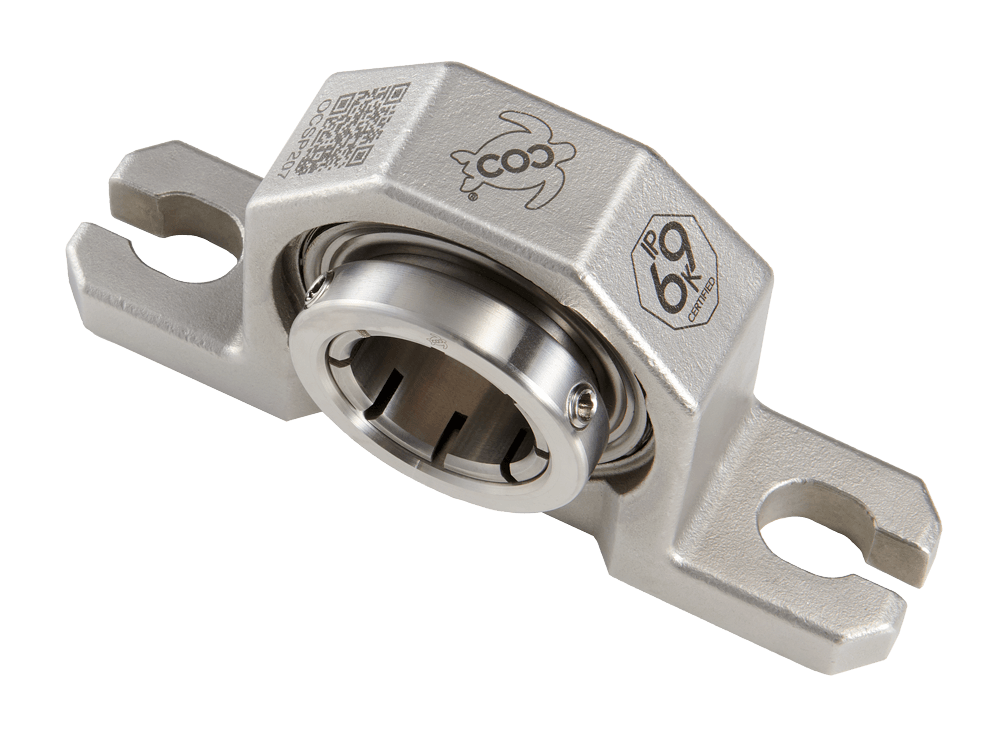 Sanitary Food Grade design for
HACCP/HARPC compliance
COC 100% stainless steel washdown ball bearing units have achieved IP69K certification and our relubrication-free solution for food safety programs. Our new concentric OCCLOC™, 8 slot locking system doesn't damage shafting and is easy to mount and dismount. It has great holding power even with the undersized commercial shafting.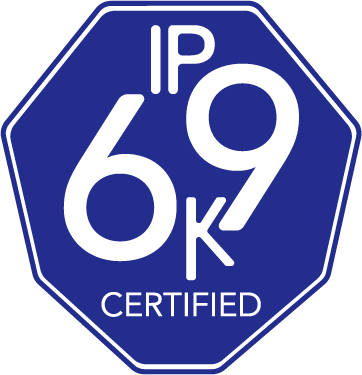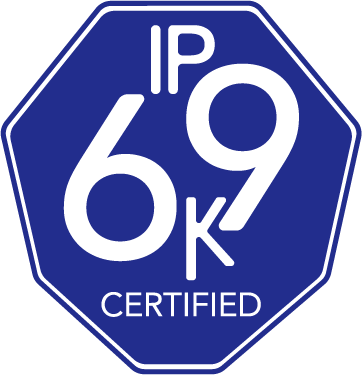 IP69K TEST
The water intrusion tests themselves are done by placing the product on a turntable with a rotational speed of 5 ±1 revolutions per minute. The product is then sprayed at close range at a rate of approximately 4 gallons/16 liters per minute with water pressure of between 1160-1450 psi, at a temperature of 176°F/80°C. The nozzle from which the water is sprayed is held between 4 and 6 inches from the product, at a variety of angles.
The IP69K rating provides protection against ingress of dust and high temperature, high pressure water – making products with this certification ideal for use in conditions where equipment must be carefully sanitized. The IP69K rating is the highest protection available.
COC's sealing system with stainless steel flinger is designed to withstand frequent high pressure washdowns. The IP69K rating is for high pressure and high temperature washdown applications. Lubricated for life with NSF approved H1 food grade grease, this maintenance free solution allows for better cleaning of machinery and more up-time.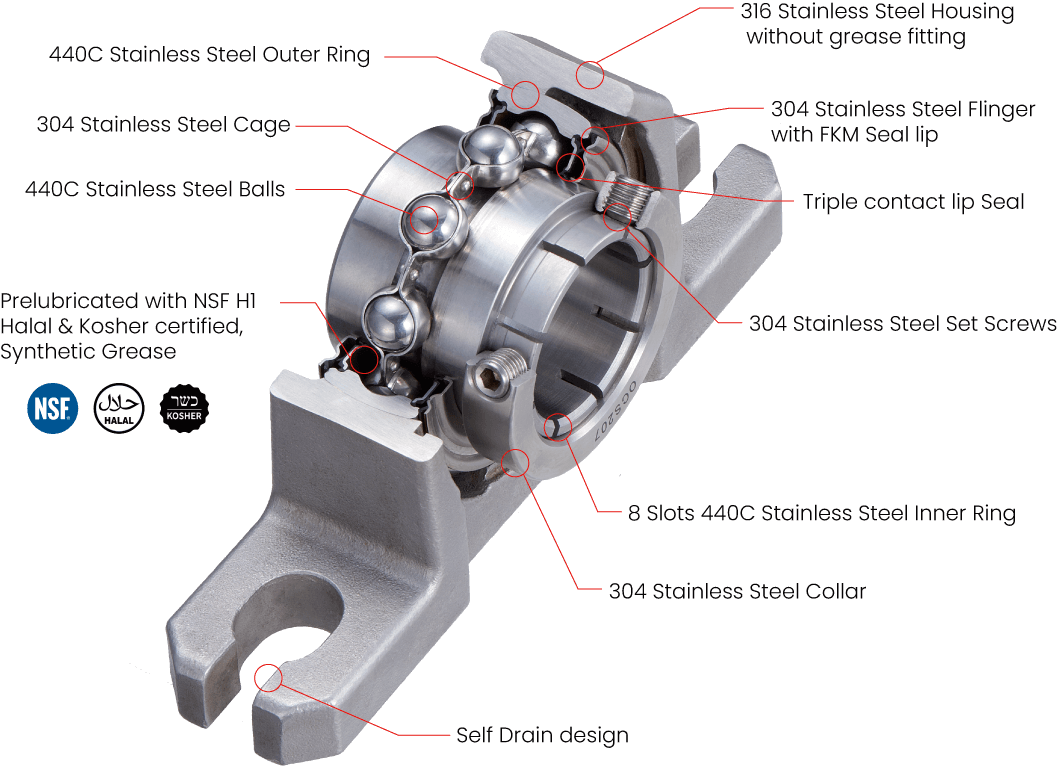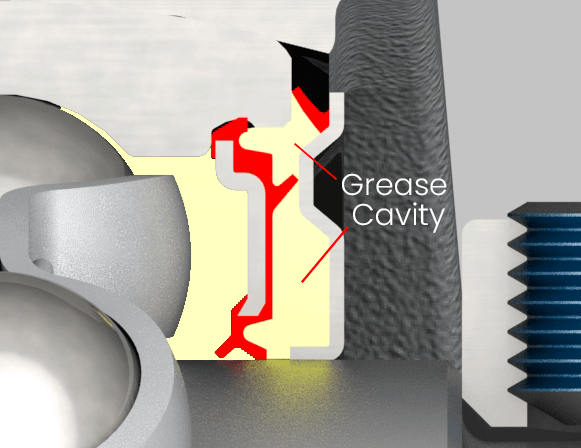 Ideally a smaller area of connect with the machine is a better way to eliminate bacteria harborage and our stand-off housings allow for clean-in-place (CIP) operation. They have mostly 1/2″ stand-off clearance to meet HACCP/HARPC compliance.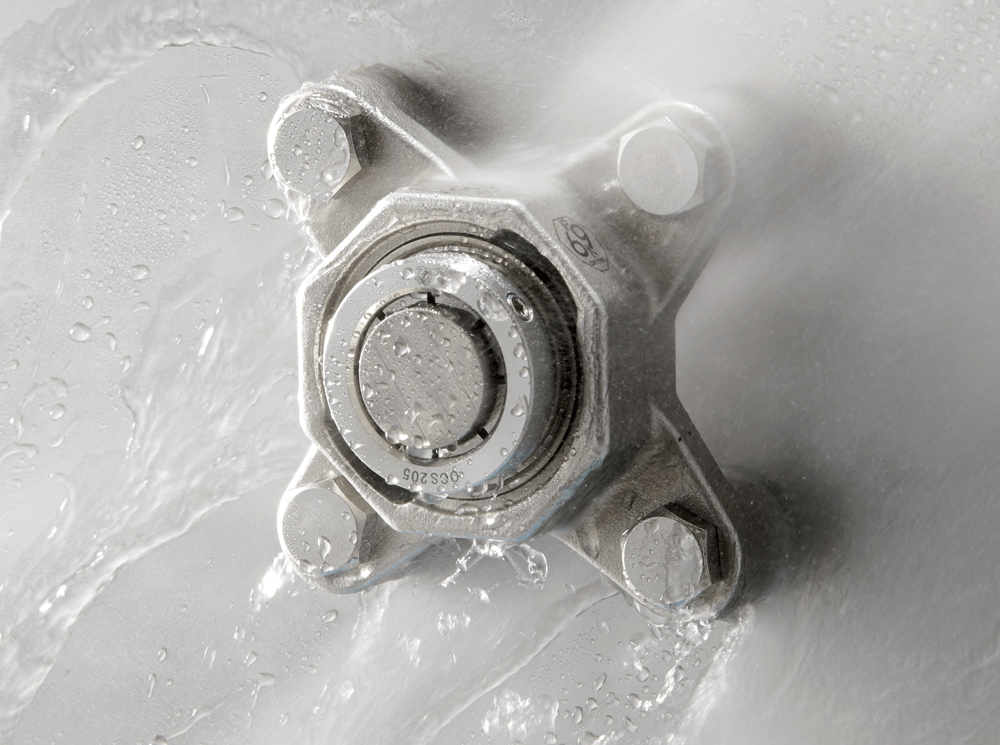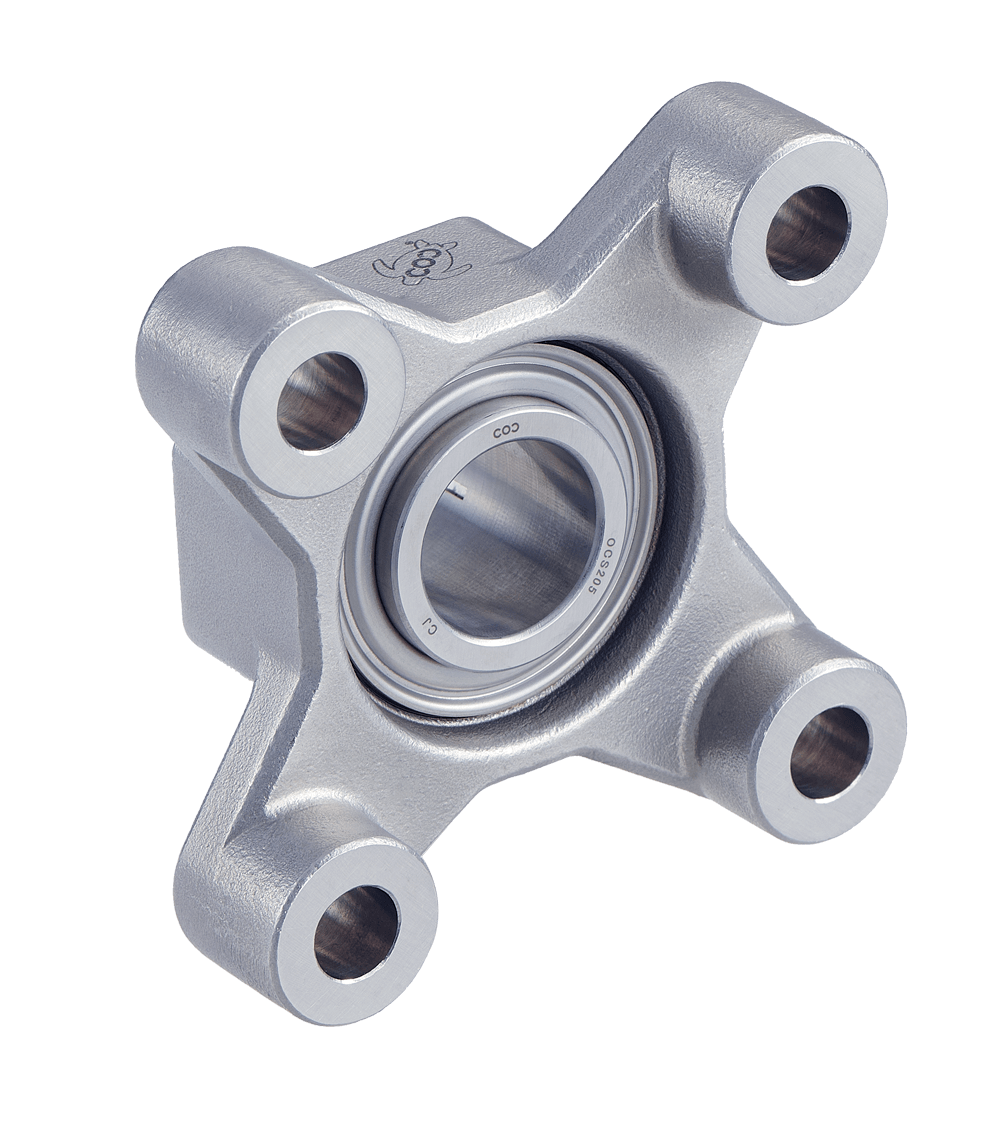 For strict sanitary requirements taking
cleaning and safety to a new level
I wish that manufactures would stop making set screw locking bearings.
8 SLOTS CONCENTRIC LOCKING SYSTEM

COC's original OCCLOC™ doesn't make any marks on the shaft and can clamp onto the undersized commercial shafting. OCCLOC™ saves you money by allowing you to use less expensive and undersized commercial shafting. Most importantly the shaft can be very clean without any damage from the bearings.
Two setscrews are located 120° apart on the locking collar over the 8 slotted inner ring. The locking collar pulls the far side of inner ring by tightening of the setscrew.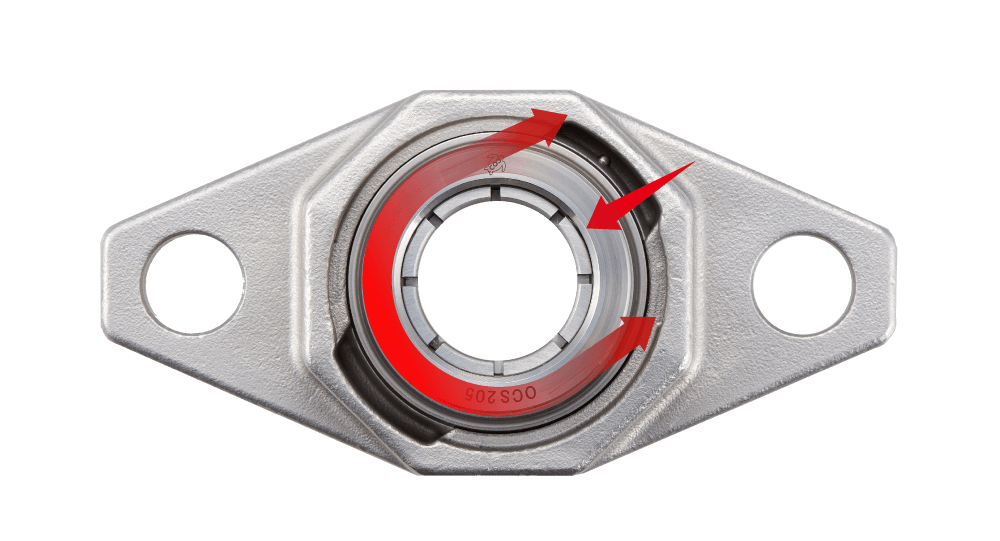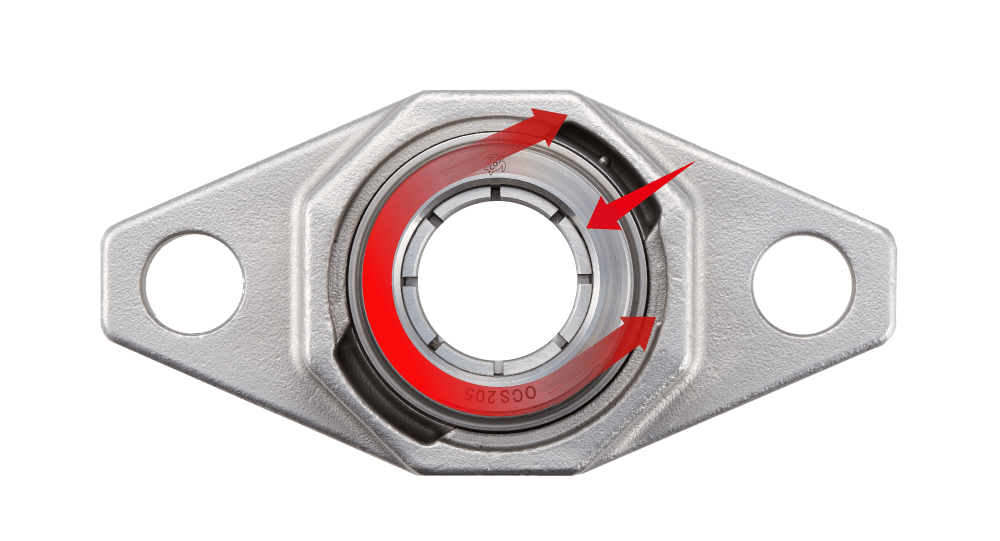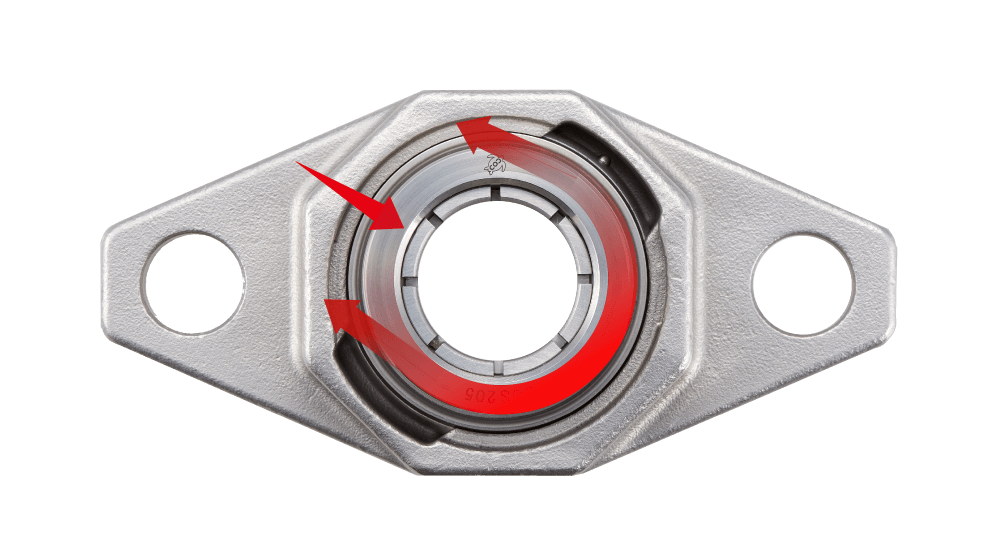 COMPARISON BETWEEN SETSCREW LOCK AND OCCLOC™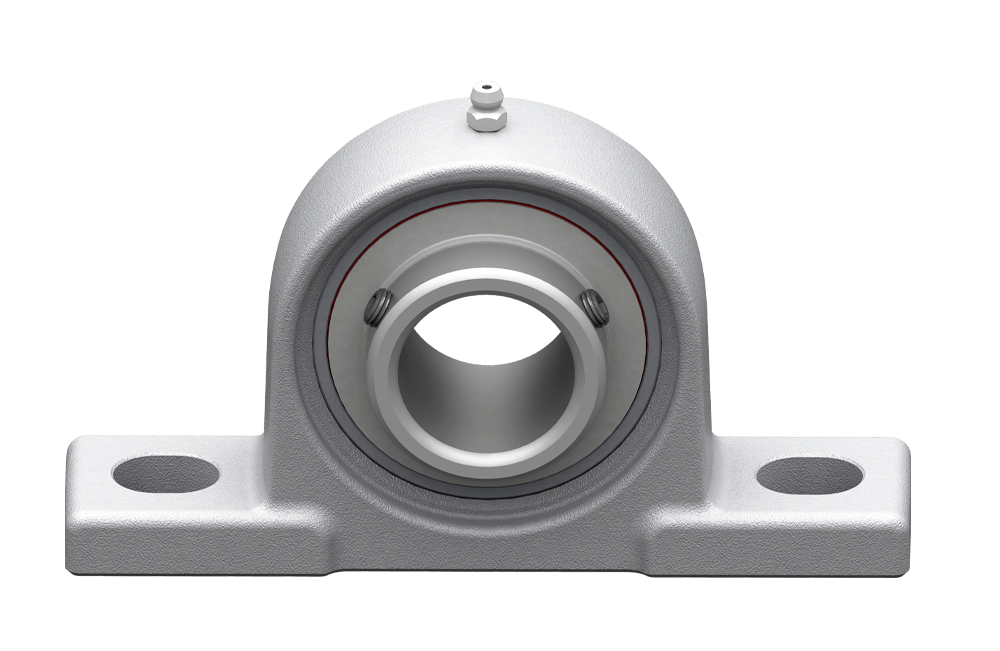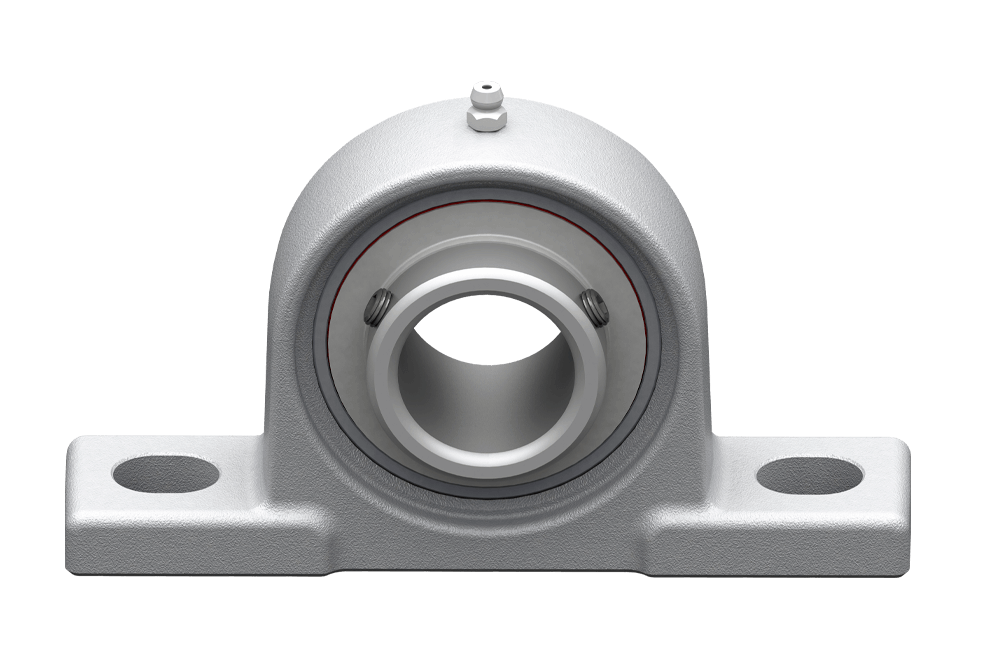 Easiest to install
Should use recommended shaft sizes from catalogs (h7 fit)
Creates Burrs
Stainless steel setscrews are too soft to hold the hardened shafting and can slip.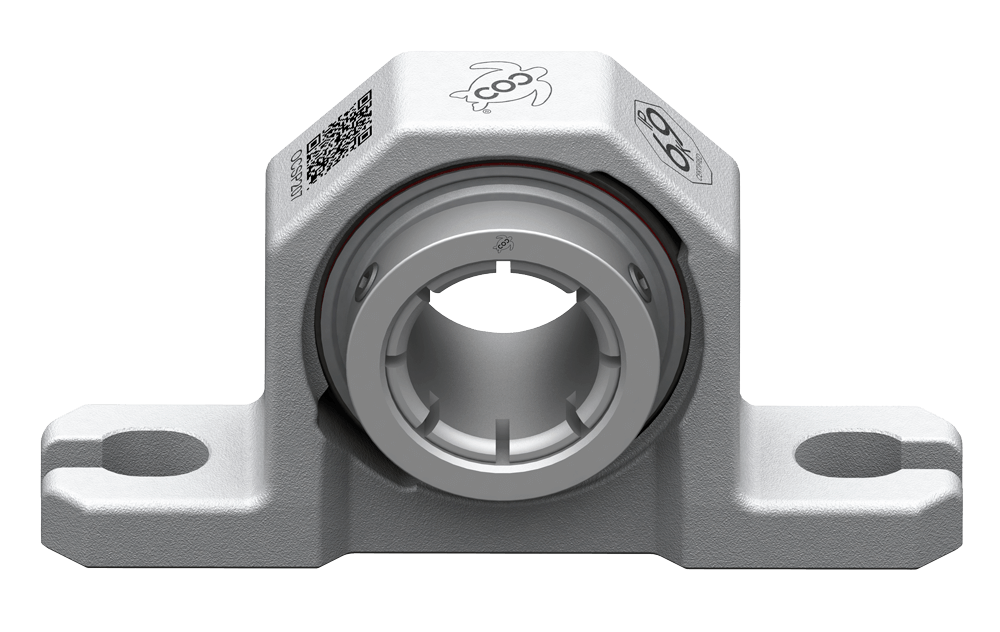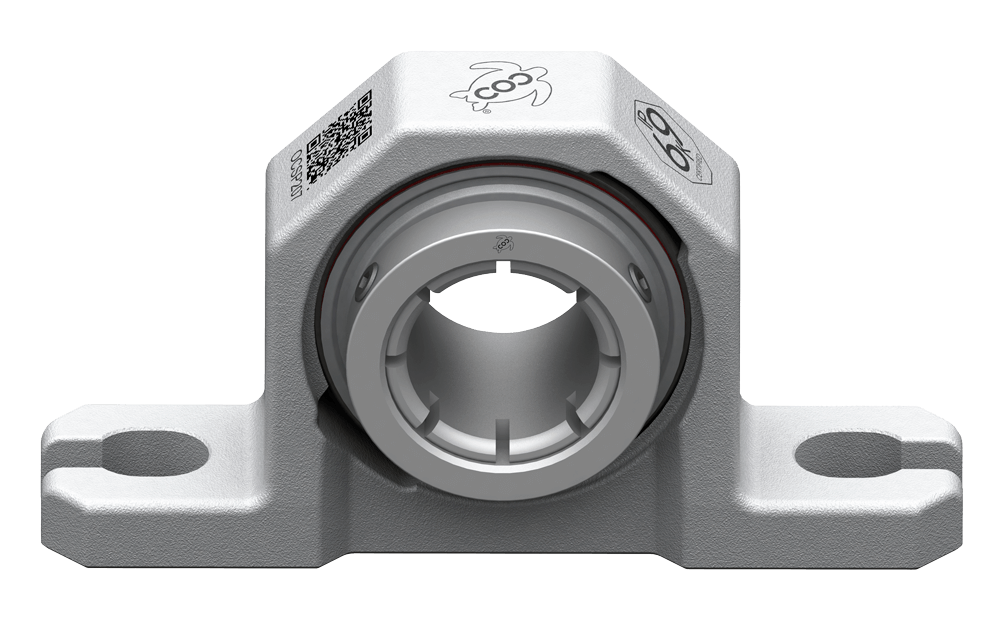 Easiest to install as easy as a setscrew lock
Can use Commercial Shafts (h9 fit)
No damage to the shafting
Stainless steel safety cover
Although our IP69K certified units don't require the covers for the extra protection, the safety cover is available. Our stainless steel safety cover is very easy to install and uninstall to clean. It has two little tabs that fit into the bearing slots on the front of housing. Just twist the cover until it clicks to lock. The safety cover doesn't need to be sealed and it has two drain holes to reduce the heat and moisture inside the cover. As this is the relubrication-free design, there is no purging grease after a couple hours of initial operation. It's better to be washed and ventilated rather than allowing moisture to remain inside of the covers.
Standard plastic covers are undetectable by metal detectors in food processing lines. Broken pieces can make their way into the food supply. Stainless steel is detectable and can be easily removed from the processing line.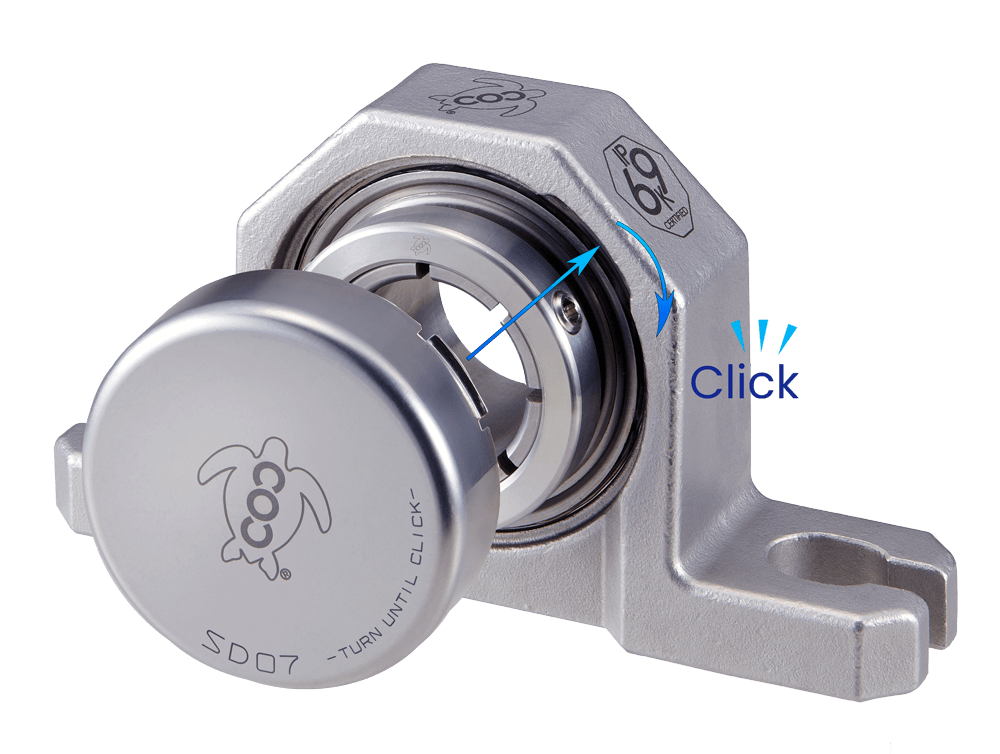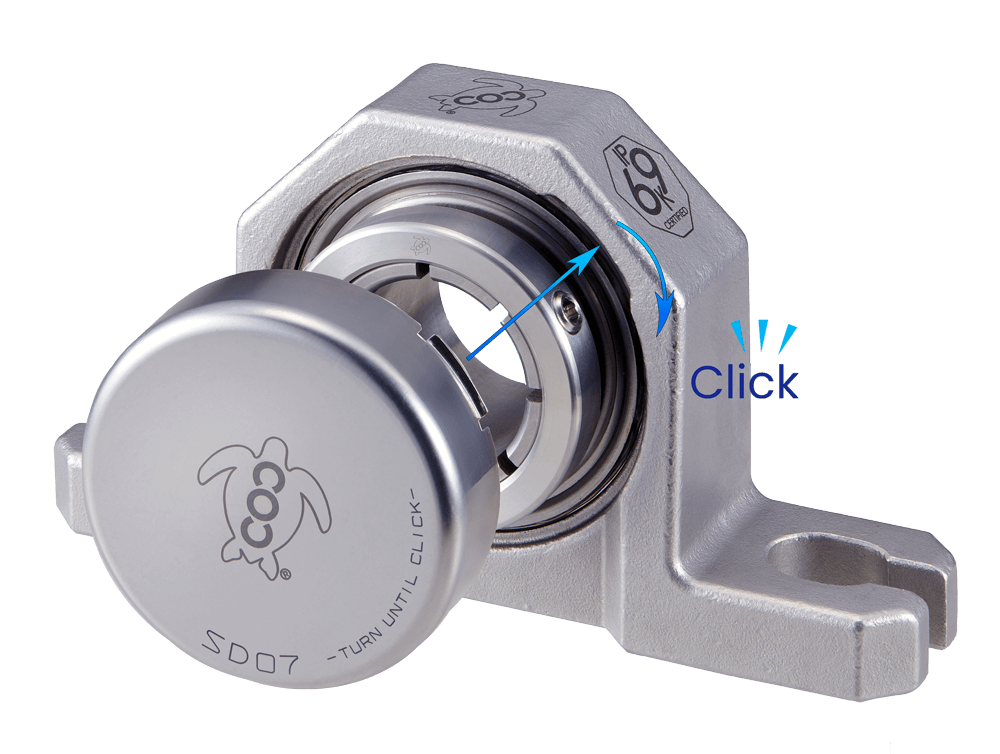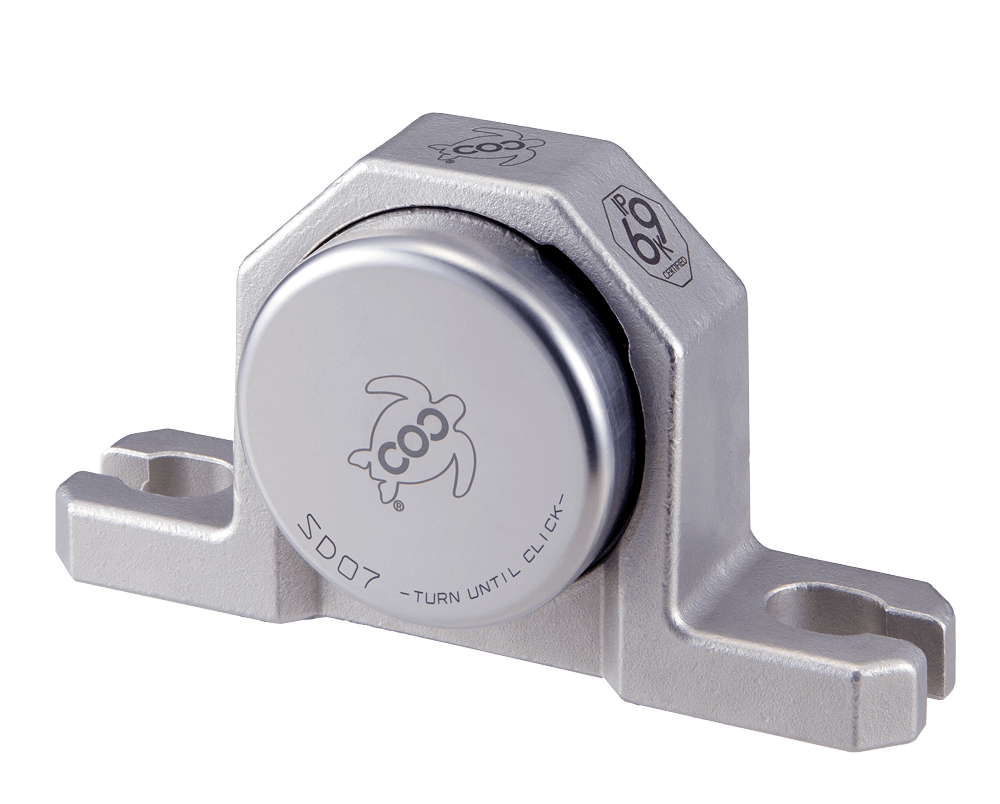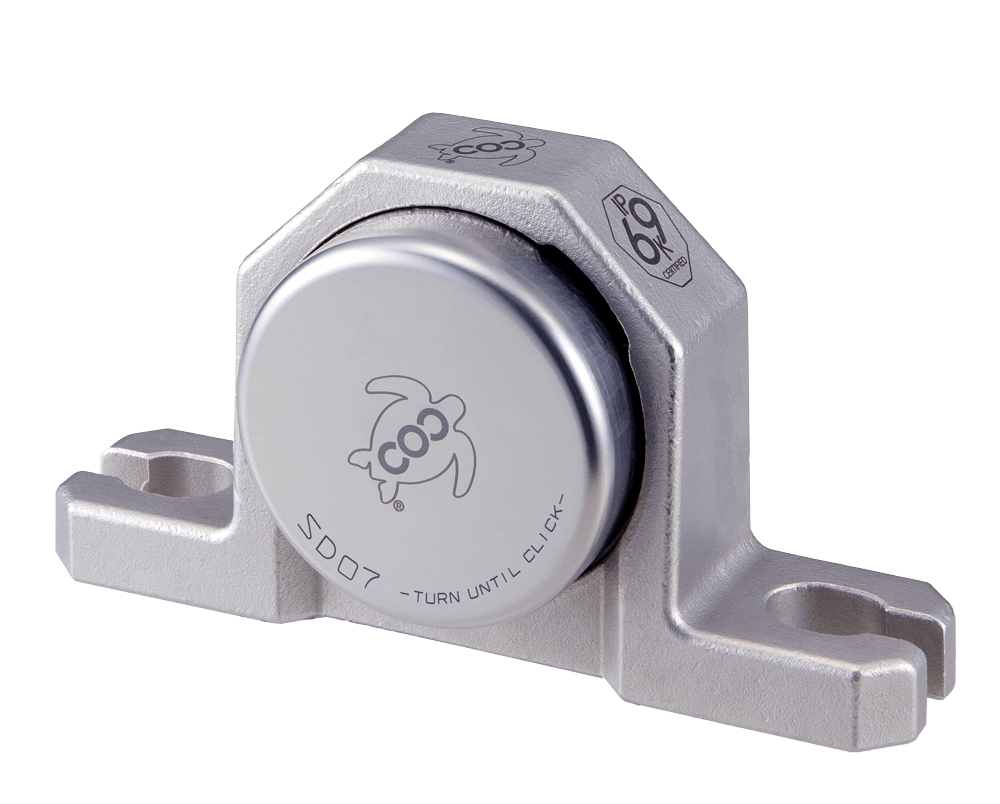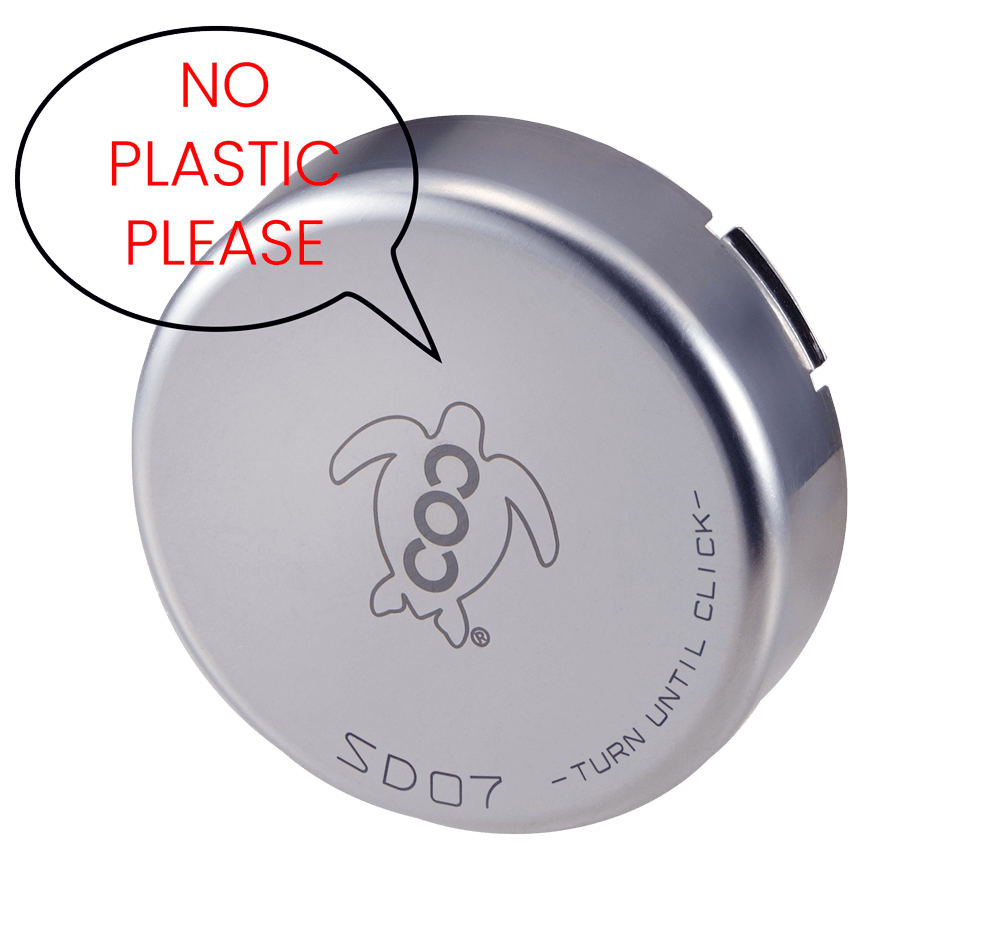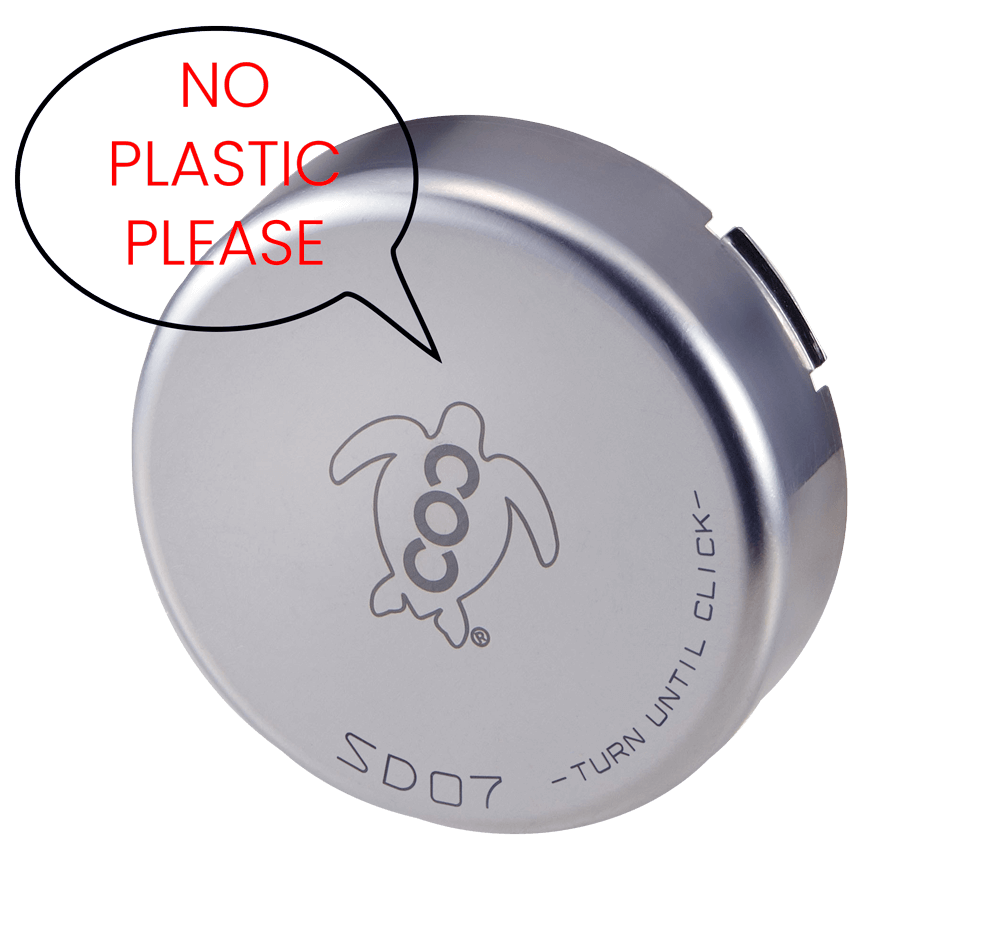 100% stainless steel units including safety covers are recyclable and we don't use any plastic materials. The plastic and nickel-plated housings are good cost savings for some applications but when they get scratched, they can become entrapment points for bacteria and rust from damaged nickel-plated steel. We believe stainless steel units are safer and our relubrication-free design saves grease, the amount of water used for cleaning and the cost of maintenance. The longer you use our bearings, the better it is for the planet.
Our unique octagon shaped stainless steel housings are very smooth and easy to clean. The flat surface of the octagon shape is designed for the laser marked QR code for scanning. The QR code provides information for installation on site and it also has a serial number for the traceability.