Nuestro sistema de fijación con manguito CROSSLOC™(pendiente de patente) incorpora tornillos axiales que permiten montar y desmontar el rodamiento por un lado. Apriete los tornillos en forma de estrella para montarlo y suéltelos para desmontarlo. Sólo necesita una llave Allen. Es fantástico para los ejes comerciales de tamaño reducido y sujeta mediante un contacto total con el eje.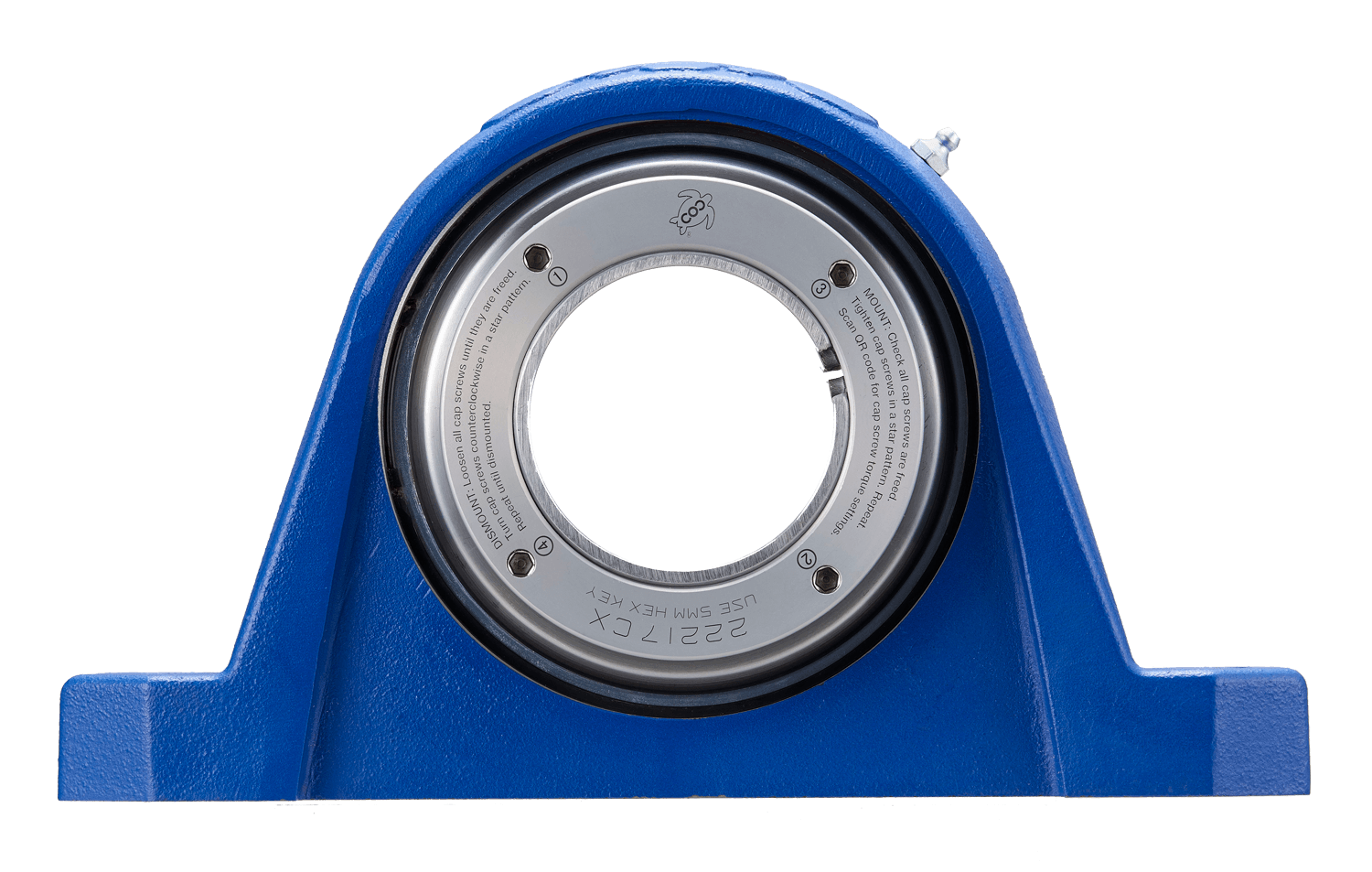 CROSSLOC™es la manera más fácil de montar y desmontar el manguito de fijación. Solamente hay que apretar los tornillos como se ve más abajo. Se necesita tan solo una llave Allen y ningún calibre fijo. El manguito es la mejor fijación para el eje porque no lo daña y lo sujeta de manera concéntrica incluso si es de tamaño reducido. El área de contacto entre CROSSLOC™y el eje es mayor que la de cualquier otro sistema de fijación. El contacto total del manguito reduce la vibración.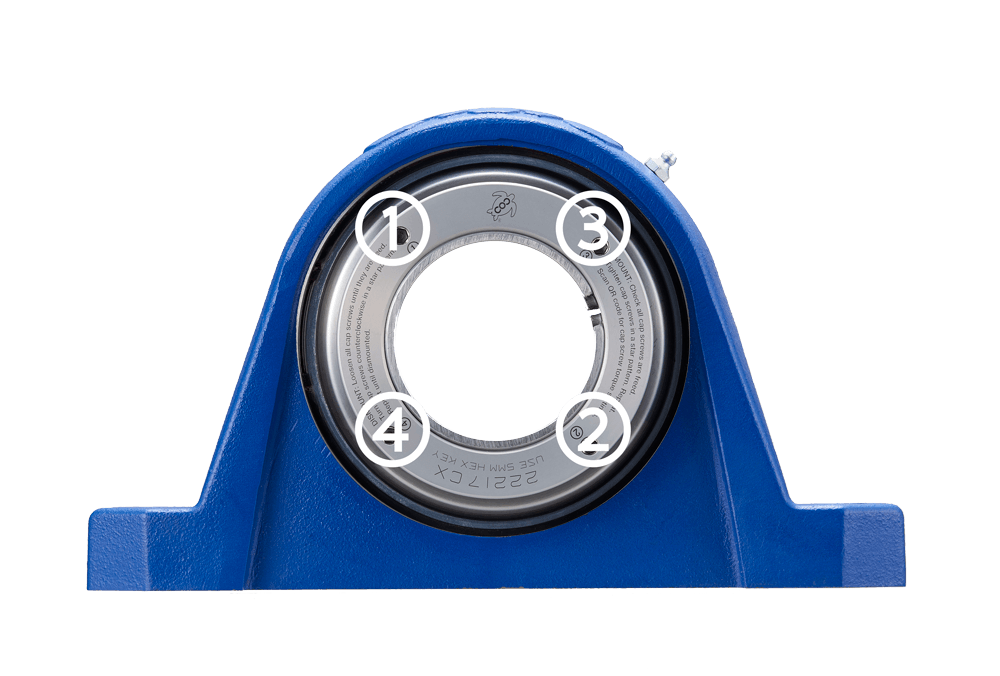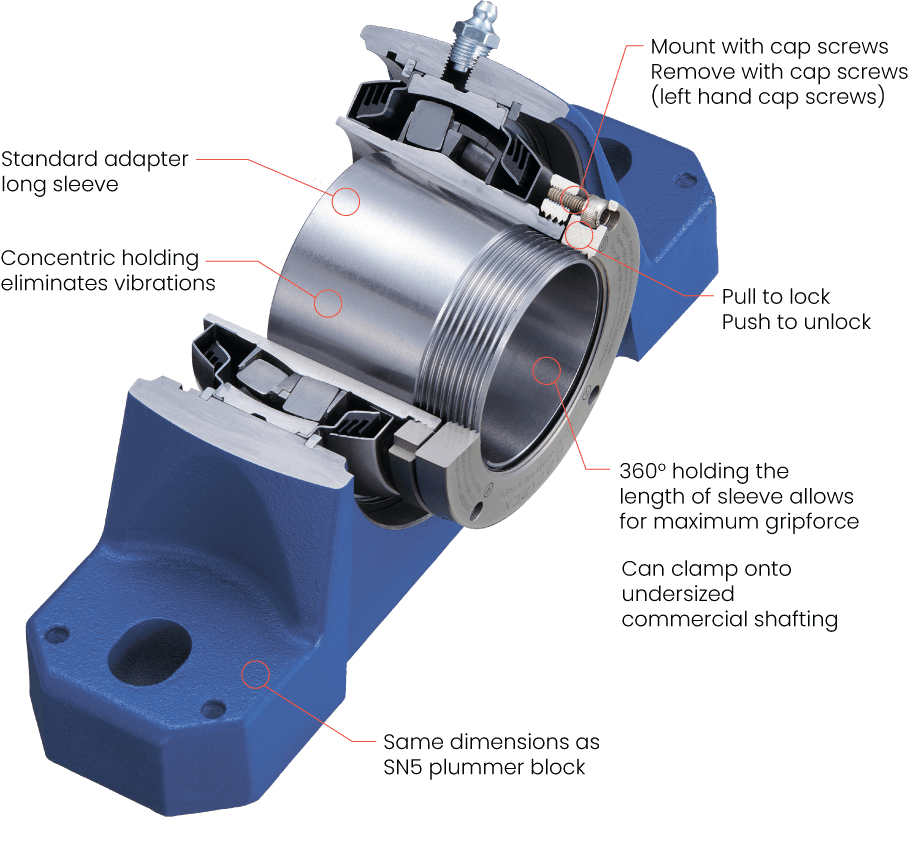 Tolerancias de eje recomendadas
CROSSLOC™se ajusta a ejes de tamaño reducido.
| Shaft Dia. | Setscrew Collar Mount | CROSSLOC Mount |
| --- | --- | --- |
| 1 7/16 - 2 in. | - 0.0015 in. | - 0.003 in. |
| 40 - 55 mm | - 0.038 mm | - 0.076 mm |
| 2 3/16 - 4 in. | - 0.002 in. | - 0.004 in. |
| 60 - 100 mm | - 0.051 mm | - 0.102 mm |
| 4 7/16 - 5 1/2 in. | - 0.003 in. | - 0.005 in. |
| 110 - 140 mm | - 0.076 mm | - 0.127 mm |
One piece housing


& pre lubricated
CX2SN
Rodamiento oscilante de rodillos con soporte de apoyo de tamaño SN de dos agujeros y fijación CROSSLOC™. CX2SN es 100% compatible con los productos de los soportes de apoyo SN estándar. Está listo para montar directamente al eje, ensamblado de fábrica y completamente lubricado. Se puede montar seis veces más rápidamente que los soportes de apoyo SN estándar.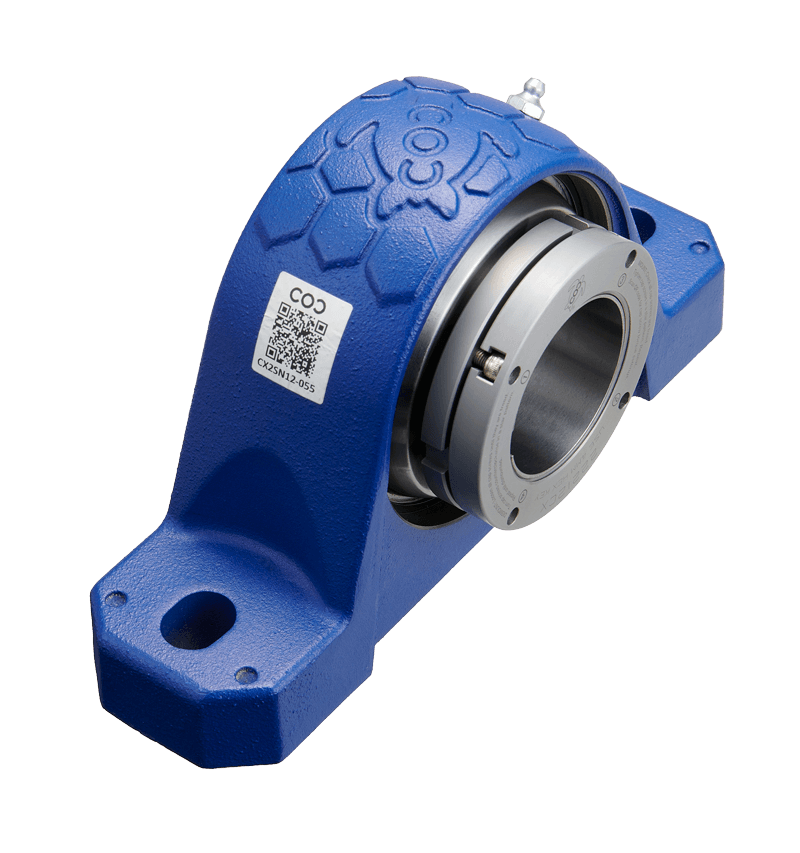 NEW
CROSSLOC™ spherical roller bearing with two and four bolt SAF dimension pillow block housing.
CX2SAF and CX4SAF are 100% compatible with standard SAF plummer block products. It is shaft ready, factory assembled and fully lubricated. It can be mounted six times faster than standard SAF plummer blocks.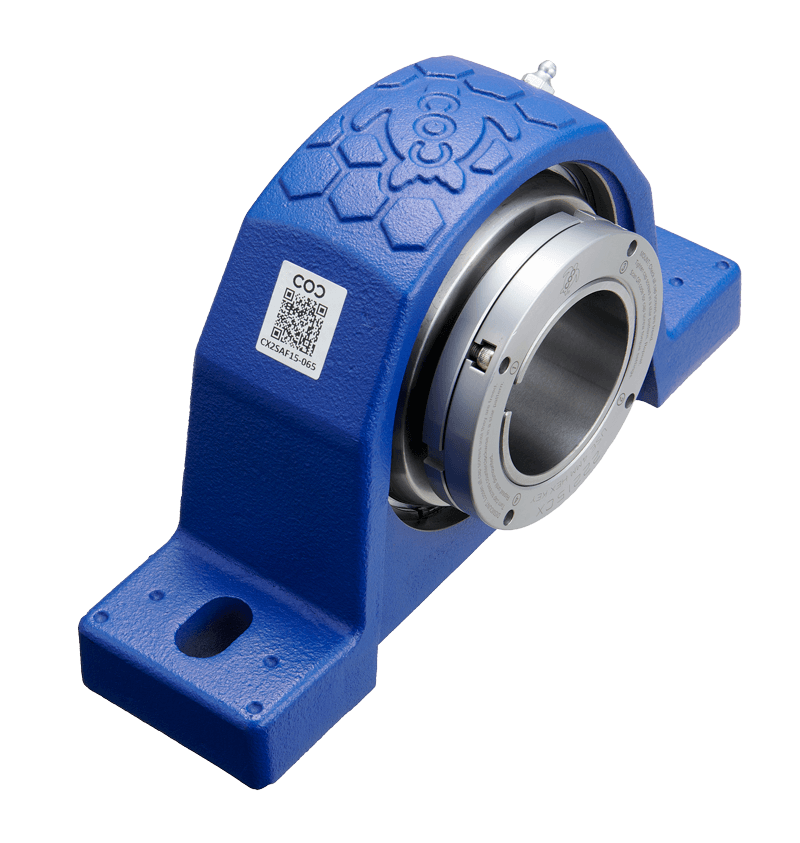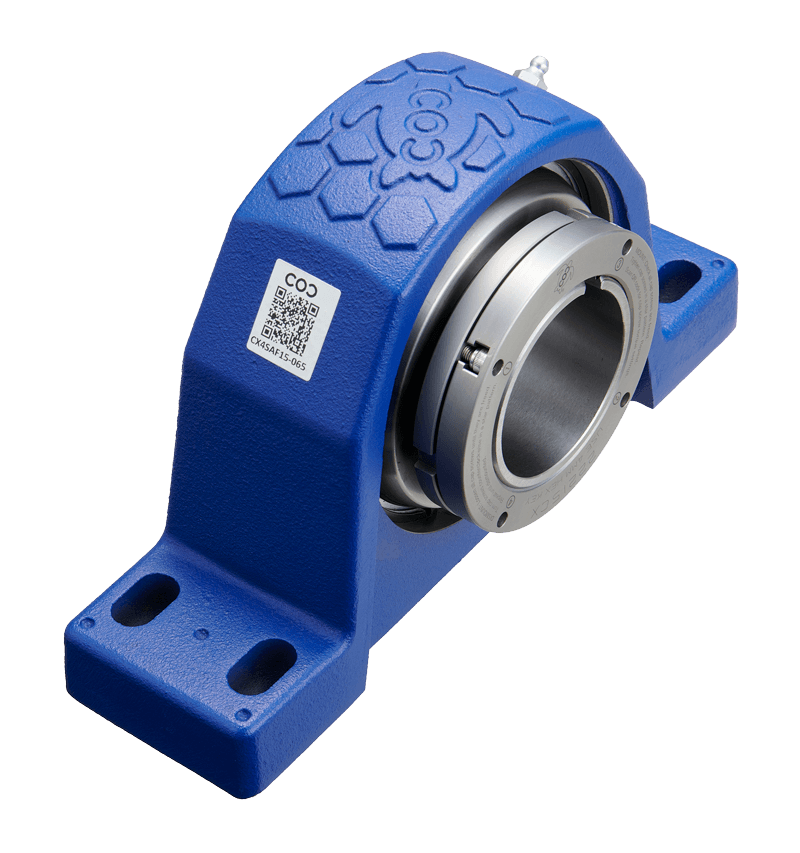 CROSSLOC™ bigger than 125mm and 4-15/16″ bore size have 6 cap screws and their housings have the eye bolt on the top.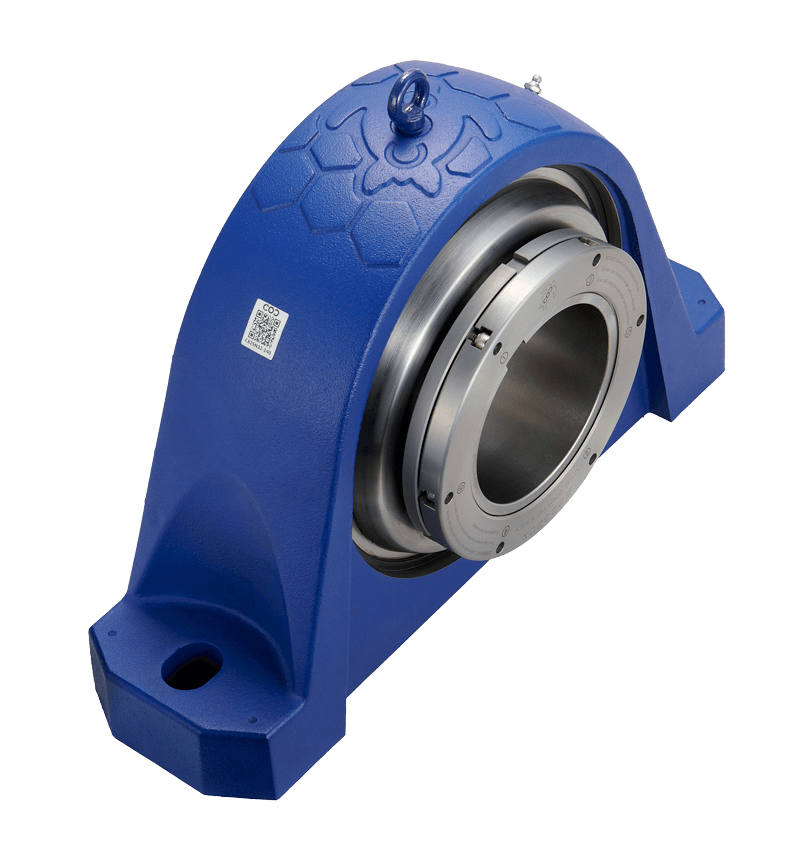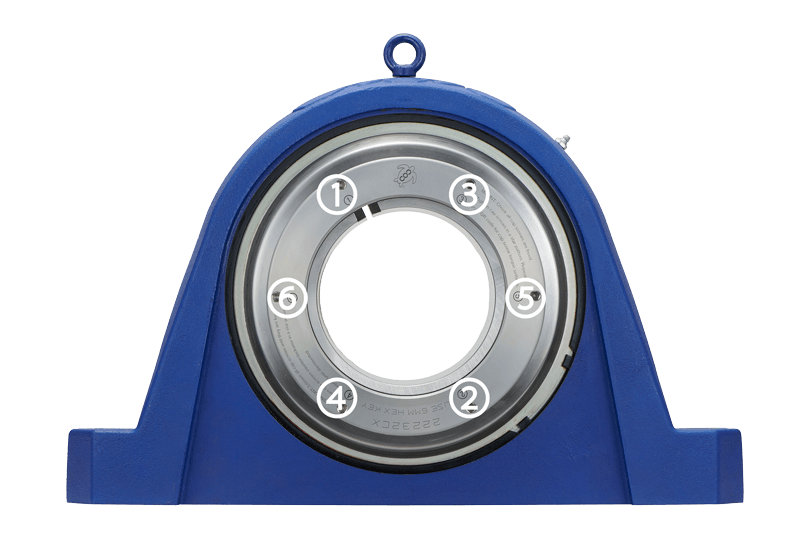 Lower total cost of ownership
SAMPLE OF COST COMPARISON BETWEEN CLASSIC SN & CLOSSLOC™ SN
Cost of classic SN (Total of Plummer Block + SRB + Adapter + Locating Ring + Seals + lubricant)

78%

78%

Cost of CROSSLOC™ SN (One piece complete unit of sealed bearing with CROSSLOC™)

100%

100%

Skilled Labour Cost of Mounting classic SN (Assembling parts and installing adapter sleeve with lubricant)

25%

25%

Cost of Mounting CROSSLOC™ SN (Tightening Cap Screws without skills)

3%

3%

Skilled Labour Cost of Dismounting classic SN (Disassembling parts, cleaning lubricant and uninstalling adapter sleeve)

21%

21%

Cost of Dismounting CROSSLOC™ SN (Un-tightening Cap Screws without skills)

2.5%

2.5%
COMPARISON OF GREASE INITIAL AMOUNT
SN517 Plummer Block Unit (500 g)

100%

100%

CROSSLOC™ CX2SN17-075 (132 g)

26%

26%
Using less oil helps the environment.

Cylindrical Bore Equivalent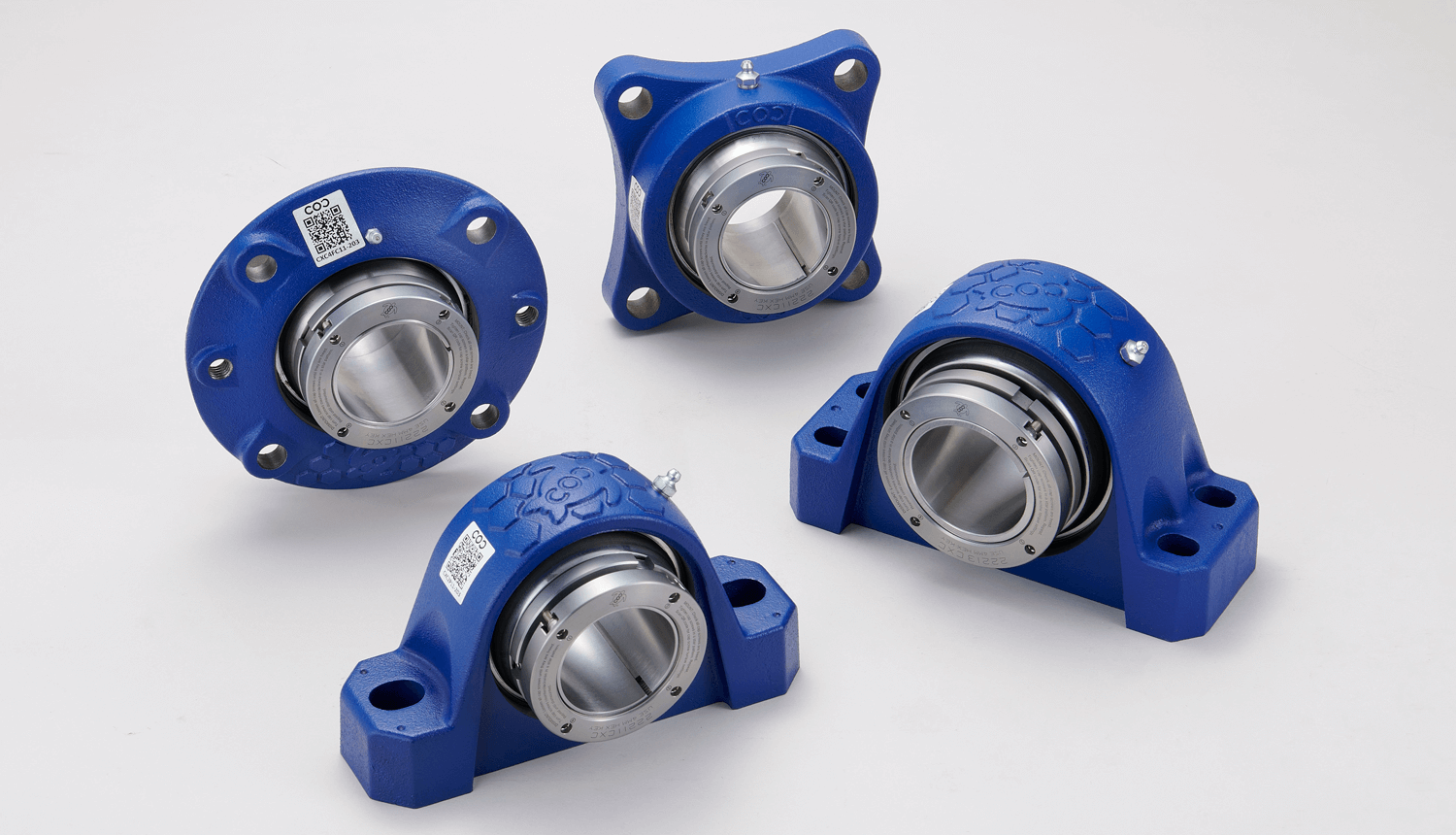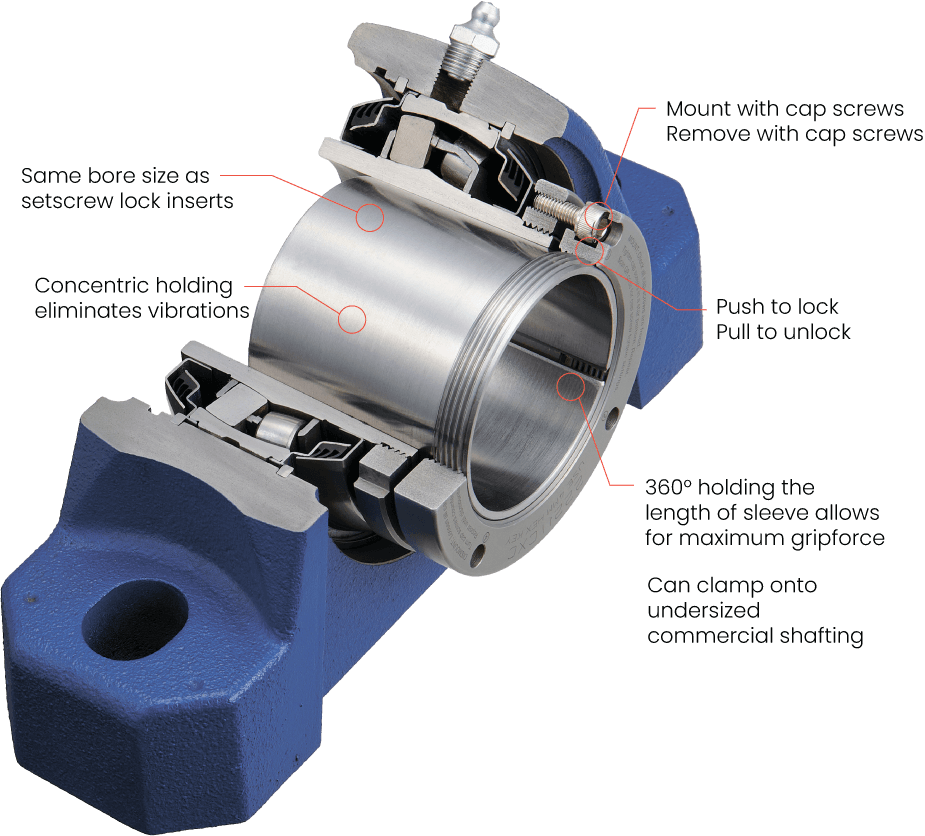 We belive the adapter mount is the best locking system for mounted bearing units. It's 100% concentric and holds the shaft with the length of the sleeve. Our CROSSLOC™ made the installation of adapter mount easier which is always the issue of the standard adapter mount. So how can we replace the setscrew lock with CROSSLOC™? CROSSLOC™ units are one size bigger than setscrew lock units to accomodate with adapter sleeve. That means the center hegihts and mounting pitches are different. CROSSLOC™ CXC can be the answer for this request.

CROSSLOC™ CXC bearing is the same O.D. size version as CS setscrew lock cylindrical bore inserts. It's one size smaller O.D. than CROSSLOC™ CX inserts for SN & SAF housings. We use our original thinner wall lower angle tapered sleeve for CROSSLOC™ CXC to be compatible with dimensions of CS setscrew lock inserts. The system is very simple as CROSSLOC™ CX as tightening cap screws to lock and loosening cap screws to unlock.
CROSSLOC™ has the sleeve length to contact the shaft concentrically and doesn't allow vibration and burrs. The cap screws to mount and dismount the locking system is easy for anyone. It doesn't require any marking on the inner ring or counting how much the lock nut turns.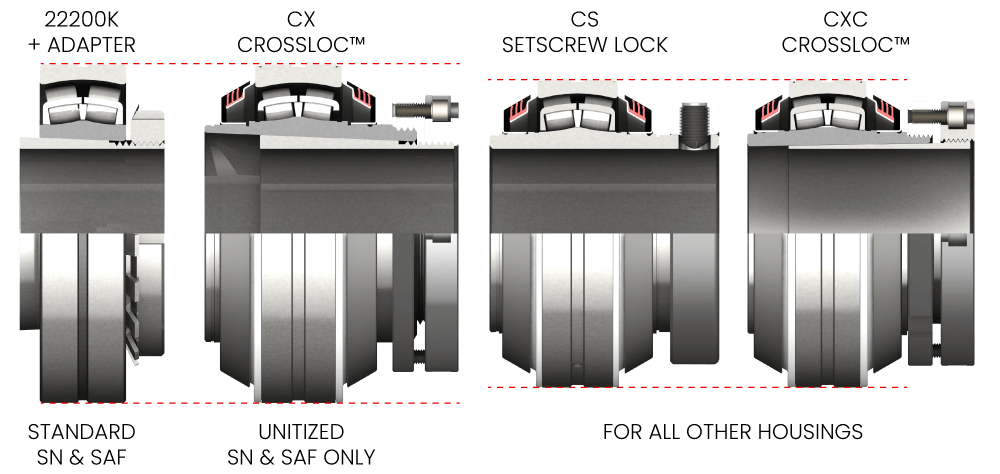 22200K and CROSSLOC™ CX bearings are the one size bigger O.D. size than CS setscrew lock inserts to accommodate standard adapter sleeve. CROSSLOC™CXC bearing is same size with CS setscrew lock inserts to use the thin wall adapter sleeve with lower taper angle.
COMPARISON BETWEEN CROSSLOC™ AND SET SCREW LOCK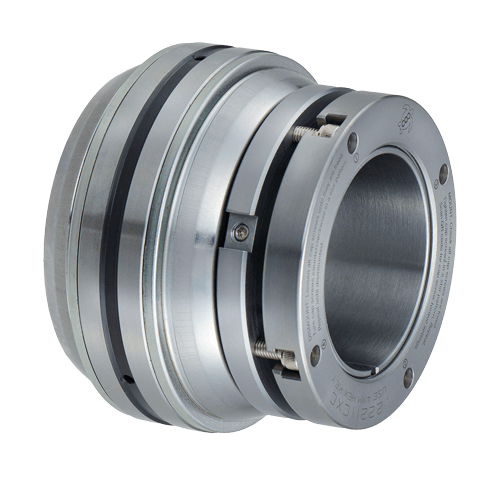 Tighten 4 cap screws to lock
Can use undersized commercial shafting
Clamp concetrically eliminate vibrations
Maximum grip force with length of sleeve
No damage on shafting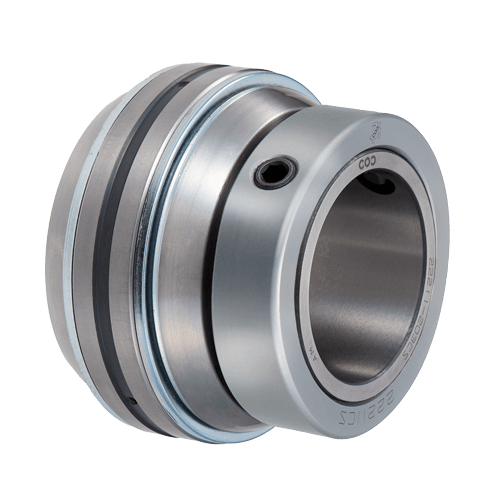 Tighten 2 set screws to lock
Should use recommended shaft sizes in catalog
When the shaft is undersized, unbalanced rotation causes vibrations in high speed applications
Creates burring on shafting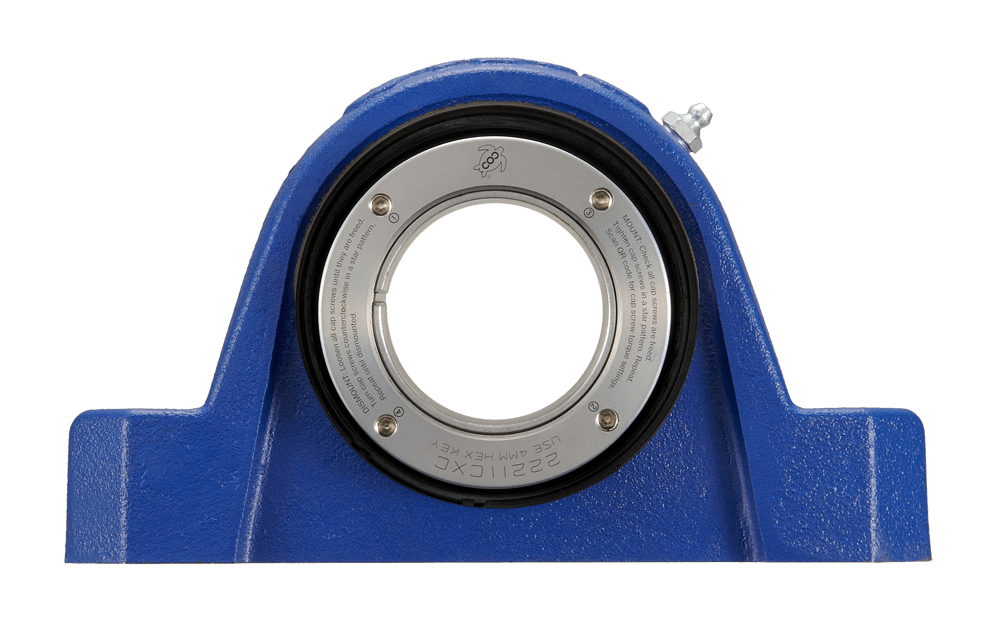 HOW TO LOCK CROSSLOC™ CXC
(laser marked instruction on the nut)
Make sure all cap screws are loose.
Tighten cap screws in a star pattern as seen left and repeat several times.
Tighten each cap screw with a torque wrench to the appropriate torque value on the catalog page or scanned page of QR code on the housing.
HOW TO UNLOCK CROSSLOC™ CXC
Loosen all cap screws until they are freed.
Turn cap screws counterclockwise in a star pattern and repeat until dismounted.