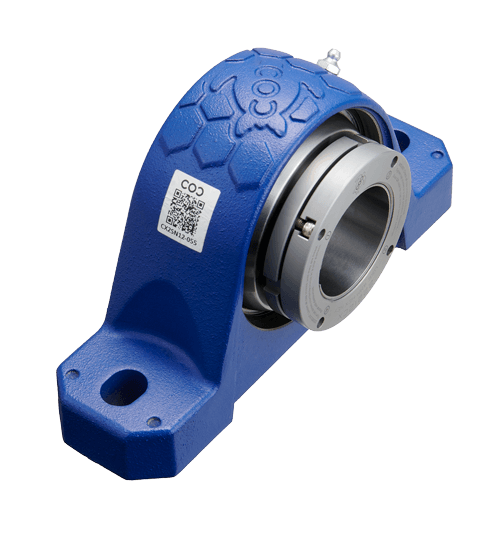 CX2SN19-304 (E)
| Specifications | inch |
| --- | --- |
| Unit Number | CX2SN19-304 |
| Bearing Number | 22219-304CX |
| Shaft Size | 3 1/4 |
| Sleeve | AE2319X |
| Bolt Size | 3/4 |
| Bolt / Torque | 1460 in-lbs |
| Locking Style | CROSSLOC |
| Cap Screw | M6X14 |
| Cap Screw / Torque | 9.5 Nm |
| Grease Fitting | A-NPT1/8 |
| Grease | Fuchs Renolit LX-TAC2 |
| Weight | 33.6 lbs |
| Dimensions | inch |
| H | 4 13/32 |
| L | 13 19/32 |
| A | 3 15/16 |
| J | 11 7/16 |
| N | 7/8 |
| N1 | 1 1/16 |
| H1 | 1 3/8 |
| H2 | 8 1/4 |
| D1 | 5 3/16 |
| V | 1 39/64 |
| A0 | 4 43/64 |
| B | 4 5/16 |
| Basic Load Ratings | lbf |
| Cr | 74025 |
| Cor | 92700 |
MOUNT:
Check all cap screws are freed.
Tighten cap screws in a star pattern. Repeat.
When using a torque wrench, tighten each cap screw to the appropriate torque value above.
DISMOUNT:
Loosen all cap screws unitl they are freed.
Turn cap screws counterclockwise in a star pattern and repeat until dismounted.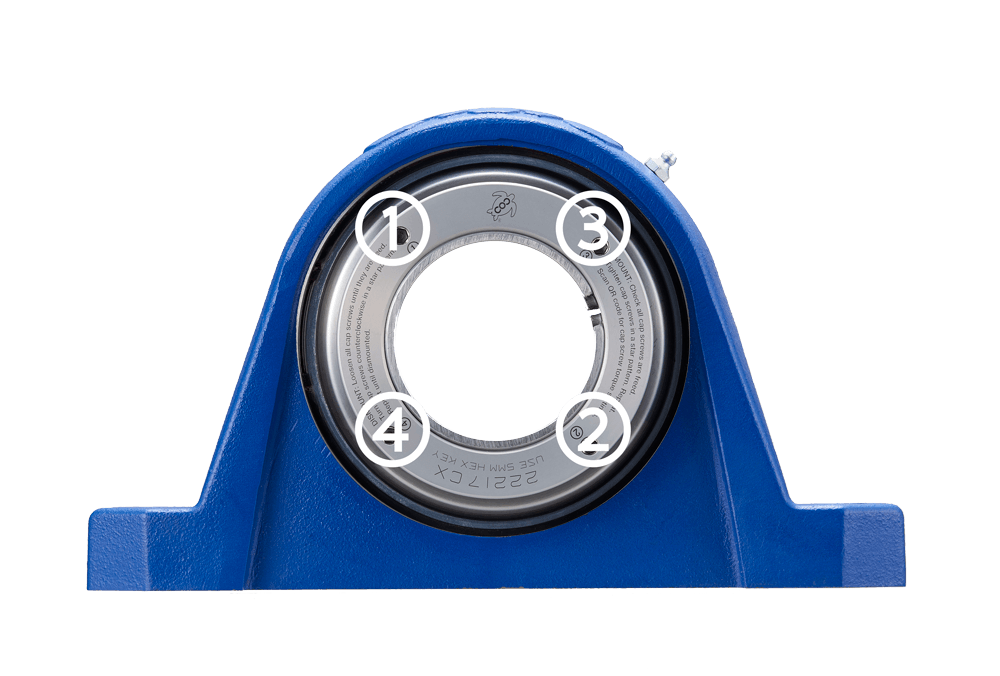 Recommended Number of Months Between Relubrication
(Based on Operating Speed (rpm) and Continuous Operations)
| Bearing No. | Grease Wt. g / oz | 10 months | 8 months | 6 months | 4 months | 2 months | 1 month |
| --- | --- | --- | --- | --- | --- | --- | --- |
| 22208 | 8.4 / 0.3 | 400 | 620 | 950 | 1460 | 2250 | 3470 |
| 22209 | 9.3 / 0.3 | 360 | 560 | 850 | 1340 | 2050 | 3120 |
| 22210 | 10.8 / 0.4 | 320 | 510 | 770 | 1240 | 1860 | 2810 |
| 22211 | 14.8 / 0.5 | 290 | 460 | 690 | 1140 | 1700 | 2530 |
| 22212 | 19.8 / 0.7 | 260 | 420 | 620 | 1050 | 1540 | 2270 |
| 22213 | 26.2 / 0.9 | 240 | 380 | 560 | 960 | 1400 | 2050 |
| 22215 | 32 / 1.1 | 210 | 350 | 500 | 890 | 1280 | 1840 |
| 22216 | 40.1 / 1.4 | 190 | 320 | 450 | 820 | 1160 | 1660 |
| 22217 | 52.9 / 1.9 | 170 | 290 | 410 | 750 | 1060 | 1490 |
| 22218 | 62 / 2.2 | 160 | 260 | 370 | 690 | 960 | 1340 |
| 22219 | 75.4 / 2.7 | 140 | 240 | 330 | 640 | 880 | 1210 |
| 22220 | 88.7 / 3.1 | 130 | 220 | 300 | 580 | 800 | 1090 |
| 22222 | 124.5 / 4.4 | 110 | 200 | 270 | 540 | 730 | 980 |
| 22224 | 152.1 / 5.4 | 100 | 180 | 240 | 500 | 660 | 880 |
| 22226 | 181.9 / 6.4 | 90 | 160 | 220 | 460 | 600 | 790 |
| 22228 | 244.4 / 8.6 | 80 | 150 | 200 | 420 | 550 | 710 |
| 22230 | 300.3 / 10.6 | 70 | 140 | 180 | 390 | 500 | 640 |
| 22232 | 372.9 / 13.2 | 70 | 120 | 160 | 350 | 450 | 580 |