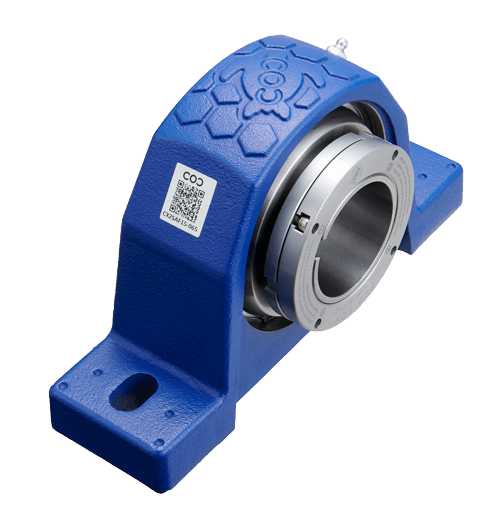 CX2SAF10-112 (E)
| Specifications | inch |
| --- | --- |
| Unit Number | CX2SAF10-112 |
| Bearing Number | 22210-112CX |
| Shaft Size | 1 3/4 |
| Sleeve | BE2310X |
| Bolt Size | 1/2 |
| Bolt / Torque | 292 in-lbs |
| Locking Style | CROSSLOC |
| Cap Screw | M5X12 |
| Cap Screw / Torque | 6.7 Nm / 59.1 in-lbs |
| Grease Fitting | NPT1/8 |
| Grease | Fuchs Renolit LX-TAC2 |
| Weight | 9.9 lbs |
| Dimensions | inch |
| H | 2 1/2 |
| L | 8 9/32 |
| A | 2 23/64 |
| J | 6 23/32 |
| N | 19/32 |
| N1 | 7/8 |
| H1 | 1 1/8 |
| H2 | 4 21/32 |
| D1 | 3 3/32 |
| V | 29/32 |
| A0 | 3 1/32 |
| B | 2 49/64 |
| Basic Load Ratings | lbf |
| Cr | 22095 |
| Cor | 25313 |
MOUNT:
Check all cap screws are freed.
Tighten cap screws in a star pattern. Repeat.
When using a torque wrench, tighten each cap screw to the appropriate torque value above.
Note: The outside nut should move parallel to the inside nut to avoid the cap screws twisting and getting damaged. This is why the cap screws are tightened in a star pattern and repeated. You may need to repeat this several times to tighten all the cap screws perfectly, this is a very standard way as seen with automobile wheels.
DISMOUNT:
Loosen all cap screws unitl they are freed.
Turn cap screws counterclockwise in a star pattern and repeat until dismounted.